 Sohail Rehman,first ever wheelchair trainer to be hired by a Premier League club

A football coach confined to a wheelchair due to his disabily has acquired the job of his dreams coaching at the football club he loves – Manchester United.
Sohail Rehman, 22 from Keighley, who suffers from spinal muscular atrophy and has been wheelchair-bound since the age of 13 has become the first ever wheelchair trainer to be hired by a Premier League club to coach able-bodied footballers, having gained his FA coaching badges last year.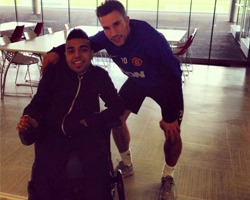 The young football coach goes to Manchester three times a week to coach for the club he loves. He works for Manchester United Soccer Schools and performs two key roles, the first in which he coaches teenagers who come to the club for a trial and the second which involves visiting schools on behalf of Manchester United to train children.
"It is mad," said Sohail
"I get to go to the training ground most of the time and see the players – it is a weird feeling. I will always be a fan first, so I still have that fan instinct.
"It's a great environment and everyone knows each other. It's a great chance for me to gain some experience as well, being around coaches who have so much experience."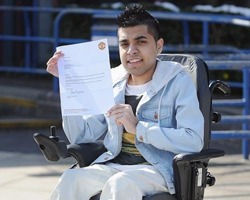 Upon becoming fully qualified, he found himself the happy recipient of a letter from Sir Alex Ferguson, legendary former manager of Manchester United, congratulating him on gaining his FA coaching badges.
However, he has much to thank a different pedigree of manager at Old Trafford for, as ex-Red Devils boss David Moyes acted as the catalyst for Sohail's dream job.
"Big thanks to David Moyes," said Sohail. "I did a coaching session at United and after that he was basically saying how impressed he was with me. He wanted to get me on board with the club – he started everything off."
A spokesman for the club said: "We are absolutely delighted to welcome Sohail to Manchester United, his determination to reach a unique role in football is an example to us all.
"In the face of great adversity Sohail has shown that hard work and determination counts for everything in overcoming obstacles. Since coming to the training ground, everyone at Manchester United has welcomed Sohail with open arms."
Former United and England star Nicky Butt said: "It is an amazing achievement and speaking to him he comes across as a young man who knows what he wants to achieve. It is magnificent now that he will be sharing these great qualities with young players of the future and I am sure they will be inspired by all that he has achieved."