 Early morning operation finds 10 illegal workers in Leicester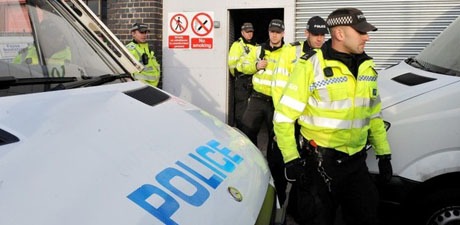 Ten people have been arrested for immigration offences after an early morning Home Office operation targeting illegal working in Leicester.
Acting on intelligence, Immigration Enforcement officers, alongside officers from Leicestershire Police and HMRC, visited Spring Shades Ltd, a fabric, dye and finishing company on Friday Street, Leicester, at about 6.45am on Thursday 7 November.
Checks were carried out on the immigration status of staff members. Eight Indian men were arrested for immigration offences.
Two further immigration-related arrests were made when officers carried out searches at two residential addresses in Leicester. They are also Indian men.
Those arrested are aged 20-54. Four of the men are also being questioned on suspicion of possessing forged documents. The remaining six are detained pending their removal from the country.
Spring Shades Ltd will be served with a civil penalty notice for employing the eight illegal workers. This means the employer will be fined up to £10,000 per worker unless proof is provided that the correct right to work checks were carried out such as seeing a Home Office document or passport. This is a potential total fine of £80,000.
Alison Spowage, Assistant Director for Immigration Enforcement in the East Midlands, said: "This was a large scale operation targeting suspected illegal working in Leicester.
"Employers who flout the law will not be tolerated. Illegal working is unfair on honest employers and takes jobs away from those with a legal right to work."
Chief Inspector Donna Tobin-Davies, Leicestershire Police's operations lead in Leicester city, said: "This morning's operation was a great success. We will continue to support our colleagues in the Home Office Immigration and Enforcement team to tackle immigration crime and associated criminality in Leicester, Leicestershire and Rutland.
"The arrests from this morning add to the success of our Force's new initiative Operation Tiger, which aims to tackle serious crime and ASB during an intense period of police activity."
On 10 October the Government published the Immigration Bill, which carries a number of proposals to clamp down on illegal working and rogue employers. These include potentially doubling the maximum penalty for those using illegal labour to £20,000 and making it easier to enforce unpaid debts in the civil courts.
The Government is also planning to simplify the right to work checks, to make it easier for compliant employers to fulfil their responsibilities.
Immigration Minister Mark Harper said: "Illegal working encourages illegal immigration, undercuts legitimate businesses and is often associated with exploitation.
"The existing illegal working regime isn't simple enough; the penalties have remained the same since 2008 and don't provide a sufficient deterrent; it is also too easy for companies to evade paying them.
"New legislation will increase the penalties for rogue businesses, make it easier to enforce payment, while also making it easier for legitimate businesses to verify individuals' right to work."
The Home Office provides support to employers so they can understand the rules, including visits by staff, a dedicated telephone helpline and website.