 Singer is huge hit in Japan!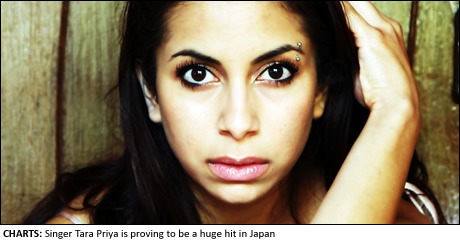 AMERICAN singer Tara Priya is proving to be a big hit – in Japan!
The singer has seen her new single 'Run Like Hell' rocket up the iTunes R&B charts in Japan.
Her current position at 6 means she's overtaken R&B heavyweights Chris Brown, Usher, LMFAO, Ne-Yo and Keri Hilson!
Her album, simply titled 'Tara Priya' has also created waves throughout the Japanese music scene entering the album charts at No. 11 and now already at the No 2 position on the R&B Charts ahead of massive mainstream artists like Gym Class Heroes, Rihanna and Alicia Keys.
The retro-soul artist has been overwhelmed by the love and support of the Japanese people. She says: "Please tell my fans that I am so happy that they like my music and completely humbled by their support and enthusiasm. The album and single's reception has been nothing short of amazing, and I could not be more excited to perform for all my Japanese fans!"
Tara is currently on a ten-day promotional tour of Japan, after which she'll visit Germany and India.
And here in the UK, the talented singer is already making a name for herself.
During her last visit to the UK Tara performed on Christmas Eve with her live band on BBC Radio London. Tara's previous single 'Rollin' was also featured on the UK's first ever Asian Beats Chart Show on Kiss TV last week receiving rave reviews from viewers and critics alike.