 British Asian Footballer Netan Sansara on his new life in Cyprus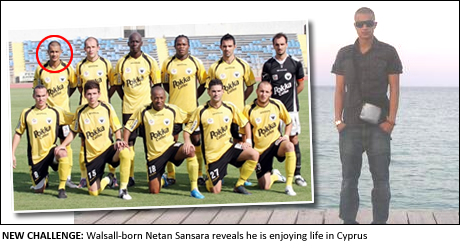 NETAN Sansara is off to winning ways for new club PAEEK FC – and he's enjoying every minute of his new life in Cyprus.
The 22-year-old defender turned down a host of other clubs before signing for the Second Division Cypriot side during the transfer window. And having spent the summer getting used to his new surroundings, he hit the ground running in his debut for the club winning the opening match of the new season 1-0.
"The coach was adamant that we concentrated on our opening game and started with a win – which we did with a 1-0 victory," he tells The Asian Today in an Exclusive Interview.  
"It was satisfying for me on a personal note as well because I played in the centre of defence and we kept a clean sheet which is always a bonus for us defenders. This opening win stands us in good stead for the long season that awaits us."
The move to PAEEK saw Netan become the first British Asian footballer to play in the Cypriot League and his career to date can only act as an inspiration for budding Asian youngsters eager to get into the game.
The 22-year-old Liverpool fan began his career at hometown club Walsall where he made 40 appearances in League One. His performances didn't go unnoticed and he soon found himself wearing the three lions of England in the Under-18 and Under-19 set up.
After leaving Walsall, Sansara spent some time in Scotland with Dundee, before making his move to Cyprus, marking an exciting new chapter in his career.
"I'm enjoying this new experience," Netan reveals.
"Learning about the Cypriot culture and different ways of living is exciting. I miss my family a lot but living on my own will do me as a person the world of good. It's very different to my comfortable surroundings in the UK but it's a new chapter in my career. We have started the season positively so long may it continue."
Netan flew out to Cyprus in July and spent three weeks taking a look at the club and its training facilities before putting pen to paper and returning home to say his goodbyes. 
Netan's parents – dad Mohinder and mum Usha – have played a pivotal role in his career – and he received much needed advice when making the decision to pack up and move out to Cyprus.
"My father has played a massive role in my career," Netan reveals. "He advises me on what he thinks will benefit me and my career the most. He always leaves the decision down to me because he knows I have my own thoughts, but his advice is priceless and I can't thank him enough for what he does.
"In fact both of my parents play a massive role. My mom is more my problem solver; she's the one I go to when I'm down or upset about things, she can always put a smile back on my face!"
Leaving his close-knit family in Walsall, Netan flew back to Cyprus in August as the team began preparations for the coming season.
He admits to missing his family but he's been made to feel at home by his new teammates.
"The lads have made me feel very welcome and this bodes well for our long season," he says.
"We have some good technical players here from different countries like Portugal and Spain; there is a very good mix here and I think we can do well this season.
"We went away mid August to a training camp in Greece for two weeks and this helped with team bonding and helped me get to know other players a little bit better, so it was a successful trip."
One thing that Netan has had to adjust quickly to is the heat!
Temperatures in Cyprus at this time of the year frequently hit 34 degrees – a far cry from the UK Autumn chill!
"The heat at first was a shock to me, some days it topped 48 degrees," Netan says. "I wouldn't say it was unbearable but it was completely different to playing in the UK. "I'm used to the wet, muddy pitches, but here the lads are telling me you are lucky to see rain once a year!
"They tell me it cools down a lot in October and the temperature drops to around 15-23 degrees. I have to say I'm used to the heat now and it doesn't bother me at all."
Expectation for Netan and his teammates are high this season. The team finished seventh last season and are looking to push for promotion as the new campaign gets underway – and its pressure Netan welcomes.
"We are one of three favourites for promotion to the First Division so we have quite big expectations this year, this is an added pressure for the players but on a personal note its something I thrive on and we can go into matches knowing that we are the team to beat and teams are in fear of us."
And on a personal note Netan hopes his new life with PAEEK will help develop him as a player as he looks to further his career on the international scene.
Having represented England, Netan is not ignoring interest from India – the birth country of his grandparents.
"They are keeping tabs on me, they know what I am capable of and they have watched me before so all I can do is let my football do the talking," Netan says.
"It's a case of doing the business for PAEEK and hopefully waiting for the call to come. It's out of my hands so all I can do is keep playing football to the best of my ability. My grandparents were born in India and I've stated before it would be an honour to go and represent India."
But for the time being Netan is focussed on the season ahead.
"I want to enjoy my football, play in every game and achieve promotion with PAEEK. We've got a long season ahead of us, but I'm ready for the challenge."