 Amir Khan leads the way at British Asian Sports Awards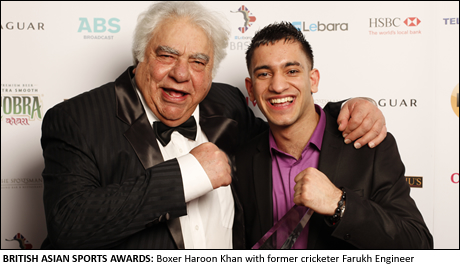 SOME of the UK's brightest Asian sports athletes have been honoured at the annual Lebara British Asian Sports awards.
The Awards celebrated a decade of achievement in a star-studded night at the Grosvenor House Hotel, Park Lane, London, with boxer Amir Khan, footballer Danny Bath and Wheelchair Rugby star Mandip Sehmi just some of the award-winners on the night.
The event, which was hosted by TV personalities Laila Rouass and Nitin Ganatra, saw a host of star attendees from both the sport and showbiz world.
Singers Olly Murs and Shayne Ward were joined on the red carpet alongside comedian Gina Yashere, Eastenders stars Diane Parish, Ramon Tikaram and Ricky Norwood, and cricket stars Saj Mahmood and Isa Guha.
Boxing star Amir Khan, currently training in Los Angeles, was honoured with the Sports Personality of the Decade award.
In a special video message to guests, he said: "This is an amazing award to receive, and I hope that my success will go some way to inspiring all those sporting hopefuls out in the community to believe that they can achieve their dreams too. Without BASA's recognition all those years ago, I am not sure I would have had the immense support I have from the community. Thank you."
Amir's younger brother Haroon accepted his brother's award.
 "I know Amir is gutted that he can't be here today," Haroon said.
"Acknowledgement from the Lebara British Asian Sports Awards means so much to him. He's got all four of his Awards in pride of place at home.
"The judges were the first to recognise his talent and the BASAs put him on the map, way before anyone had even heard of him. And now, a whole 10 years on, the Lebara British Asian Sports Awards are still behind him, acknowledging his incredible journey.
Haroon added: "He has been a huge inspiration as an Ambassador for the Awards, and definitely one for me. I'm honoured to be collecting this award on his behalf and maybe next year it will be me on stage for a different reason!"
Other winners on the night included four times World Billiards champion Michael Ferreira who was presented with the Lifetime Achievement Award, and Indian cricket star Sachin Tendulkar who was honoured twice, as International Sports Personality of the Year and also in recognition of his 50th Test century in first Test against South Africa in December 2010 as the Champagne Moment Award.
Mark Ramprakash, a former BASA Ambassador and now on the judging panel for the Awards said: "The range of sports that I have seen over the past few years is fantastic. It is so encouraging to see people being nominated by family, friends and their community as well as sporting bodies. The number of nominations keeps growing every year as does the calibre of the individuals and their personal achievements. It makes our job as judges harder and harder, but it's a job we enjoy are very proud to do. Every year the Awards night just reaffirms the impact that the Lebara British Asian Sports Awards had had on the sporting world."
Related Articles