 Actress hailed by director Farah Khan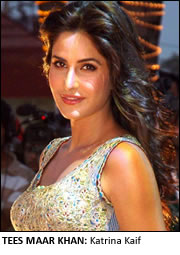 BOLLYWOOD beauty, Katrina Kaif, has worked her fingers to the bone for upcoming blockbuster release, 'Tees Maar Khan.'
The former model took her role in the film very seriously from the very beginning says director Farah Khan.
One of Katrina's biggest efforts was filming 'Sheela Ki Jawani', which is fast becoming one of the Bollywood anthems of 2010.
"Katrina spent entire days and nights rehearsing for this song. I had to shout at her and insist she take some rest. I hardly ever saw her chilling on the sets," said Farah.
In preparation for the filming, Katrina visited the gym on a daily basis, as well as following a healthy diet and abstaining from pleasures such as sweets or chocolates. Commenting on Katrina's dedication, Farah said: "I have worked with many actresses but have never come across anyone like Katrina. She was very devoted to her work and shooting with her was a pleasure."
The much-awaited 'Tees Maar Khan' reunites Katrina Kaif with on-screen partner in crime, Bollywood superstar Akshay Kumar.
'Tees Maar Khan' opens in cinemas worldwide on 24th December 2010, released by UTV Motion Pictures.