 Asian music stars team up with the Deols for 'Yamla Pagla Deewana'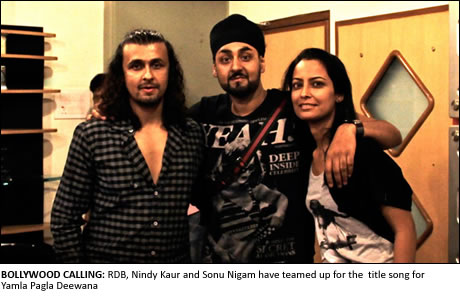 FIRST it was Namastay London then Singh is King and now Yamla Pagla Deewana. RDB have done it again, the global hit makers have given music to Samir Karnik's forthcoming film 'Yamla Pagla Deewana'.
The title song 'Yamla Pagla Deewana' has been revamped by RDB and sung by Nindy Kaur and legendary Sonu Nigam. The two unique and mesmerising voices are set to give this original classic a new flavour which fits the films requirements. The song has already been used in the first theatrical promo which has had over 500,000 hits in less than two weeks. 
RDB are excited to be a part of another exciting new project.
"We're really excited to be a part of another massive Bollywood project, it's a great feeling to be with some of the greatest artists of the industry, Yamla Pagla Deewana is a classic song we hope to keep up to the reputation," say's Surj from RDB.
There will also be a house version of ' Yamla Pagla Deewana' which will be a remake of the hit Bollywood song 'Main Jatt Yamla Pagla Deewana' a Bollywood classic from 1975 movie Pratigya starring Dharmendra.  This version will be sung by Canadian singer and the latest signing to RDB's record label Parichay. Parichay has currently release his debut single with three records 'TUM HABIBI' which is currently being played on all UK radio stations. This is the first time ever you will see Deols and RDB pair up on screen for YPD.
Yamla Pagla Deewana is set to release on January 14th 2011.