 Cinemas urged to boycott 'Four Lions'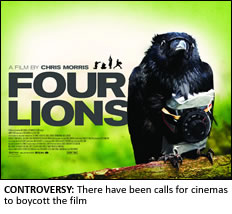 A NEW British comedy about suicide bombers has come under attack from families of those killed in the 2005 London bombings, it has been reported.
Four Lions, directed by Chris Morris, follows four would-be bombers who aim to target the London marathon.
The film opens across the UK this week.
But families of those killed in the 7/7 bombings have hit out at the film, urging British cinema's to boycott it, the BBC has reported.
Graham Foulkes, who lost his 22-year-old son, David, in the 2005 bombings, said the parallels with the real-life attacks on London's transport system were too great.
"I didn't see the humour in four people buying ingredients to make a bomb to come to London and kill innocent members of the public travelling on the Underground. I didn't think that was funny at all," he told BBC Radio 5 Live. "He has taken a specific attack – four lads from the North all with strong Yorkshire accents, and the bombers were from Yorkshire – travelling down to London. So it's very specific, very aligned to what happened in 2005. That's not parodying or being satirical about terrorists; it's making money out of a specific attack."
Morris said his film was inspired by real-life tales of incompetent terrorists. "The unfathomable world of extremism seemed to contain elements of farce," he said.
Actor Kayvan Novak, best known for his Facejacker character on Channel 4, said: "The theme is suicide bombers, but the film in no way lampoons the suffering of victims of suicide bombings."