 A rundown of all the major sport stories that made the pages of The Asian Today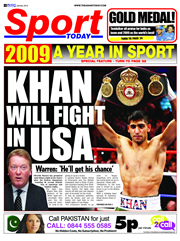 From the terrorist attack on the Sri Lankan cricket team to Amir Khan's champion winning form – we bring you a rundown of all the major news stories that made the pages of The Asian Today in 2009
JANUARY
Top Story: In a year of ups and downs for Pakistan, the start of the year sees fast bowler Shoaib Akhtar face tough questions over his future at international level. Despite securing a contract from the Pakistan Cricket Board, his mediocre display against Sri Lanka leaves many questioning whether he has the ability and desire to succeed in the green shirt of Pakistan. In a scathing assessment former captains Shoaib Malik and Waqar Younis accuse the paceman of lacking in commitment and fitness. The future looks remarkably bleak for the 'Rawalpindi Express'.
Other News: Determined to answer his critics Amir Khan lines up a mouth-watering clash with former champion Marco Antonio Barrera, and former Premiership footballer Freddie Kanoute is fined by the Spanish FA after he revealed a shirt supporting the people of Palestine during a cup game in Spain.
FEBRUARY
Top Story: Disgraced Pakistan bowler Mohammed Asif is banned for a year by an Indian Premier League drugs tribunal. The 26-year-old tested positive for the banned steroid nandrolone during the inaugural IPL competition in May 2008.
Other News: Younus Khan is appointed captain of Pakistan and Sri Lankan spinner Muttiah Muralitharan becomes the highest wicket-taker in one day internationals, overtaking the record held by Wasim Akram.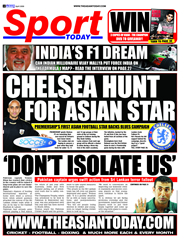 MARCH
Top Story: Gunmen attack the Sri Lankan cricket team in Lahore as they make their way to the Gaddafi stadium for a Test match. Six policemen who were escorting the team were killed, along with a driver. Seven members of the team are injured and are rushed to hospital. The incident throws serious doubt on Pakistan's ability to provide adequate security for visiting teams. A number of teams, including Australia and India previously refused to travel to the country, and just weeks before the tournament the ICC pulled the plug on Pakistan hosting the Champions Trophy over security issues. Pakistan captain Younus Khan urges the cricketing world not to isolate Pakistan over the incident.
Other News: Premier League giants Chelsea FC begin their own search for a British Asian superstar. The club hold open trials giving three lucky winners an opportunity to win a residential trial at the clubs Cobham training ground. A number of professional stars back the campaign, including the Premier League's first British Asian footballer Zesh Rehman. And it was billed as a potential transformation from a boy to a man – and Amir Khan didn't disappoint after beating Marco Antonio Barrera to set up a title winning bout with Ukrainian Andreas Kotelnik.
APRIL
Top Story: A report by the University of Brighton claims British Asian cricketers are reluctant to report racist abuse for fear of not being taken seriously. Dr Daniel Burdsey spoke to a number of cricketers who claimed, amongst other things, that instances of racism have been covered up by captains and match officials.
Other News: Pakistan's future as a cricketing nation is dealt a further blow after the ICC strip the country of hosting rights for the 2011 World Cup. Pakistan were due to co-host the tournament with India, Sri Lanka and Bangladesh. ICC officials said the terrorist attack on the Sri Lankan team a month earlier left them with no choice but to strip Pakistan of its hosting rights. The news is met with anger by Pakistan cricket officials who accuse the ICC of isolating the nation. In other news a 'new' Sachin Tendulkar emerges from the shadows – at the world famous waxwork museum Madame Tussauds! The waxwork masterpiece is flown specially to Mumbai where it is unveiled with the 'real' Sachin in attendance.
MAY
Top Story: As the cricketing world gears up for the ICC Twenty20 World Cup in England, Indian captain Mahendra Singh Dhoni is in confident mood ahead of the tournament proclaiming his players participation in the lucrative and entertaining Indian Premier League has given them the perfect platform to become world champions. For Sri Lanka though the tournament is the first time the team will return to the cricket field following the terrorist attack on them in Pakistan earlier in the year. Captain Kumar Sangakkara says his players have moved on from their brush with death in Lahore and are looking forward to competing in the sports showpiece tournament.
Other News: Hundreds of budding Asian footballers flock to Chelsea FC for the clubs search for a British Asian footballer. Three lucky winners – Aameer Kstantin Murphy, Jhai Singh Dhillon and Jordan Sadhu – win residential trials with the club.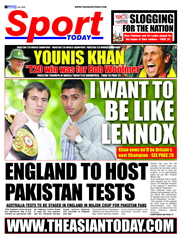 JUNE
Top Story: A truly remarkable Twenty20 World Cup in England sees Pakistan crowned champions following victory over Sri Lanka in the final. Captain Younus Khan announces his retirement from the Twenty20 format shortly after the win. He also dedicates the triumph to former coach Bob Woolmer who died suddenly during the 2007 World Cup.
Other News: Amir Khan is hopeful of winning his first world title against Ukrainian Andreas Kotelnik saying he is desperate to give Britain another champion like former great Lennox Lewis.
JULY
Top Story: Amir Khan fulfils a lifetime dream, beating Andreas Kotelnik to claim the WBA light-welterweight title. He is immediately linked with a potential mouth-watering clash with Ricky Hatton – a notion dismissed by the Mancunian who says he has no desire to return to the ring following a crushing defeat to Manny Pacquiao in May.
Other News: Drug-shamed bowler Mohammed Asif is named in the Pakistan squad after completing a ban.
AUGUST
Top Story: Match fixing rears its ugly head once more – this time linking Twenty20 World Cup champions Pakistan with Indian bookmakers. Reports allege a known bookmaker stayed in the same hotel as the Pakistan team during their tour of Sri Lanka. An investigation by the ICC's Anti-Corruption Unit clears the team of any wrongdoing.
Other News: Despite a glittering career to date Indian star Sachin Tendulkar reveals he is far from satisfied with his achievements. The icing for Sachin is the World Cup and he targets success in 2011 where the showpiece tournament will be co-hosted by India. In boxing Ricky Hatton appears to make an amazing u-turn saying he would never rule out a fight with new champion Amir Khan.
SEPTEMBER
Top Story: Pakistan announce a return to England – for a mouth watering series with Australia. The news is a major coup for British Pakistani cricket fans who will see their Twenty20 world champions attempt to resume their cricketing schedule on neutral ground. The ICC continue to stand firm against allowing teams to travel to Pakistan and the team are forced to organise matches on neutral grounds.
Other News: It emerges Amir Khan was refused a clash with Manny Pacquiao early in his career.
OCTOBER
Top Story: Younus Khan resigns as captain of the Pakistan team after allegations his team threw their semi-final match against New Zealand in the Champions Trophy. On the surface Khan claimed the unfounded allegations made by a leading Pakistan politician was the reason behind his decision. But reports begin to emerge of dressing room dissent with a number of Khan's team mates refusing to back him. One name which emerged from the shadows was that of all-rounder Shahid Afridi, but he quickly denied he had anything to do with Khan's resignation.
Other News: Amir Khan lines up the first defence of his WBA light-welterweight title against American Dimitriy Salita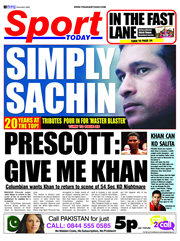 NOVEMBER
Top Story: Tributes pour in for India's Sachin Tendulkar who celebrates two decades in the game. The 'Master Blaster' is the first Indian cricketer to achieve the fete with former stars of the game leading tributes to the Indian gem. Middlesex County Cricket club also confirm they are in talks with the player to bring him to England for the forthcoming domestic cricket season.
Other News: Bangladesh ace Shakib Al Hasan makes history by becoming the first Bangladeshi cricketer to play in the English county cricket league. The highly rated 22-yesr-old joins Worcestershire. And the Pakistan 'captain' saga continues after Younus Khan resigns, is reinstated, and then resigns again. Mohammed Yousuf is appointed captain after Khan takes a break from international cricket.
DECEMBER
Top Story: Amir Khan blasts his way to victory in his first title defence, beating opponent Dimitriy Salita in just 90 seconds. The victory silences Khan's critics with boxing promoter Frank Warren confirming the Bolton ace will fight in America later this year.
Other News: It's joy for the Indian cricket team after they become the world's number one team following victory over Sri Lanka in a Test series. Captain Mahendra Singh Dhoni praises his team, adding their biggest challenge now is to remain on the ranking summit.