 Mohammed Ali caged for murdering sisters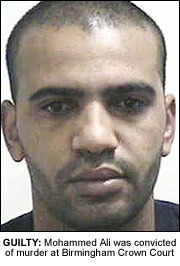 A MAN who stabbed his former girlfriend and her sister to death in a "brutal and depraved" attack was jailed for life today.
Mohammed Ali, 29, killed Yasmine and Sabrina Larbi-Cherif whose partially-clothed bodies were found at their flat in Ladywood, Birmingham last September.
He was told he would spend a minimum of 34 years in jail when he was sentenced at the Royal Courts of Justice in London today.
Ali, of Old Snow Hill, Birmingham, was not in court but the mother and three brothers of the murdered sisters sat in the public gallery as the judge passed sentence.
Yasmine, 22, and Sabrina, 19, moved to the UK from Algeria with their parents and three brothers in 1998.
Ali was captured on CCTV leaving the sisters flat in Ryland Street with a plastic bag thought to contain his bloodstained clothes.
He was arrested two days later at a ferry terminal in Dover, Kent, attempting to flee the country for France.
A jury took just three hours and 20 minutes to convict Ali of both murders.
Det Chief Supt David Mirfield, of West Midlands Police, said he was pleased with the sentence.
He said: "Yasmine and Sabrina were young, beautiful and clever girls who had their whole lives ahead of them.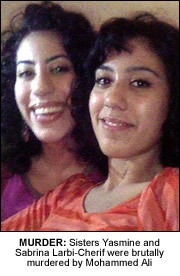 "They were brutally murdered in their own home by someone that they had trusted.
"No prison sentence will bring back the beautiful daughters and sisters that the Larbi-Cherif family lost on that terrible day in September.
"Yasmine and Sabrina's family have had to endure listening to horrific detail surrounding their murders. At no point has Ali shown any remorse or sorrow.
"Today's sentence brings to a close the months of investigation and hard work to ensure that Ali was brought to justice."
And he added: "Most of all I would like to pay my personal respects to the family of Yasmine and Sabrina. Their loss can never be imagined.
"As a force our thoughts remain with them and I hope that they will now be allowed to grieve in private."