 Kuldeep Kaur Sidhu murder investigation gathers pace

DETECTIVES investigating the murder of a Birmingham woman whose badly burnt body was found at her home have today released part of a note left at the scene of her death.
The body of Kuldeep Kaur Sidhu, 26, was found following a house fire at her home on Glyn Farm Road, Quinton a year ago. Firefighters forced their way into the house and discovered Mrs Sidhu, known as Kully to family and friends, at the foot of the stairs.
She was found with a ligature round her neck with evidence pointing to manual strangulation. Police believe she was killed before the fire engulfed the stairs and hallway of her home.
Today police released part of a note which was found near her body.
Detective Chief Inspector Steve Bimson from the Major Investigation Unit said the note was not written by Mrs Sidhu.
"The note found at the scene was written by somebody else, and proves that somebody knows about Kully's death. It is vital that we speak to whoever has written the note," he said.
"We also need anybody who witnessed any suspicious activity around her house, or saw Kully walking her dog that morning, to come forward and tell us what they know. "It may only be a very small piece of information, but it could be extremely helpful to our enquiry. Anybody who knows anything should contact the police."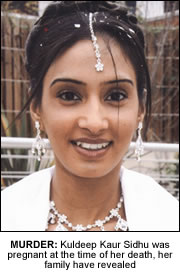 Earlier this week Mrs Sidhu's family made an emotional appeal for information on her death.
Her father, Desh Raj, brother, Amarjit Lal, and sister, Inderjit Kaur Raj revealed their beloved daughter and sister was pregnant with her first child at the time of her death.
"She loved children and she hoped to have children herself. She was in the early stages of pregnancy, it's not just one loss for her family, it's two losses," her heartbroken brother Amarjit said.
He said the family only came to learn of the pregnancy during a post mortem following her death.
"Kully was like a breath of fresh air. She was always concerned about everyone before herself," Amarjit added.
"It gets harder every day, we have to deal with the fact that she is not here and then we have to deal with why and the circumstances she was murdered in. Her murder was horrific. Everyone is clueless as to who did this and why."
He added: "She was a lovely bubbly person. What's happened isn't right. She was one person that it shouldn't have happened to. It's devastated all of us. There is a big void there. It will be hard for us to get peace."

Anybody with any information should contact the Major Investigation Team on 0845 113 500 or call Crimestoppers in confidence on 0800 555 111.