 Mohammed Bhana maps clubs' Asian fans in new book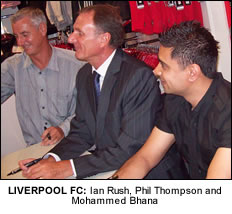 LIVERPOOL legends Ian Rush and Phil Thompson were on hand to launch a new book charting Liverpool FC's Asian supporters.
Asian Liver Bird, is the end product of over a year of painstaking research by acclaimed journalist Mohammed Bhana.
The book, packed with interview and photographs, acknowledges the passion and importance of the Reds' Asian followers.
Fans from an array of backgrounds snapped up over 350 signed books by Bhana, Rush and Thompson in less than 2 hours at the clubs official store at Anfield.
Goal scoring legend Ian Rush said: "The book is unique, well written and dispels many myths about Asians in football. Liverpool is very serious about engaging with the Asian community.
"Some of the young Asian fans who came along told me they were already buying copies for the Eid festival in October. This is all about giving something back to the fans and the Asian fans were very enthusiastic and very kind.
"However, I was surprised with the great number of local fans who purchased the book; it just shows how supporting the people of Liverpool are."
The book is destined to do well with fans as far as China and India snapping up copies online. Sales of the book are also expected to increase during Ramadan, Eid and Diwali.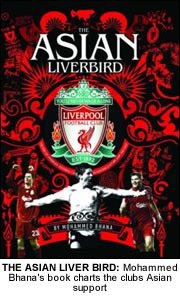 Mohammed said: "Supporting the club is just something else – it's about being part of a family. The number of Liverpool fans amongst diverse communities range across northern towns such as Batley to the more affluent areas in London. It's simply breathtaking.
"And on top of that, you cannot discount the effect second and third generation Asians have had on relatives in Asia and the Middle East, who are joining the trend of supporting Liverpool FC.
"Nowadays you hear about relatives in those countries wearing Liverpool tops and watching Liverpool games. Little did Liverpool football club realize; the brand is revered all over Asia with a tremendous increase in fans as far as Gujarat and Bombay. No other club can boast such a fan base or has given so much back to the fans."
Chief Executive Rick Parry is firmly behind the project and is determined the club will salute its Asian fans in a most positive manner.
Mr. Parry said: "We are delighted with the 'Asian Liverbird' book. We see it as a positive way of thanking and saluting our Asian fan base which is huge. It's a real football book with a big input from current and former stars as well as focusing on our passionate Asian supporters and I'm sure it will be a huge success."
On Saturday, 11 October a Celebrity Charity football match will unfold at the club's prestigious Academy in Kirkby where a Liverpool Legends X1 will meet an Asian/mainstream Celebrity X1. This will also include the potential for up to 100 youngsters from various backgrounds to be coached by Academy staff.
Copies of The Asian Liverbird can be ordered online at www.merseyshop.com or by ringing 0845 143 0001. You can also order in all good bookstores.