 Sonu Niigaam and the CBSO bring a legend to life
FOR all the singing legends in the world Mohammed Rafi has laid claim to being one of the greats.
Hailing from a strict Muslim family, Rafi became one of South Asia's biggest and most revered acts as he sang his way into the hearts of his adoring fans. When he died at the age of 55 he had recorded an estimated 26,000 songs during a career that saw him become the undisputed playback singer for the Indian film industry from the 1950s to the 1970s.
From Bangalore to Birmingham he remains to this day in the conscious of millions of South Asian music lovers. For them he was, and still is, the man with the golden voice.
This summer the CBSO will embark on one of its greatest projects when it brings the legendary Rafi to life – albeit for the second time. Back in April 2006 the CBSO paid their first homage to Rafi in a concert at Birmingham's Symphony Hall which set the scene for a truly breathtaking symphonic interpretation of some of the singer's biggest hits.
This time, the challenge is much bigger. 
A three-venue national tour – Birmingham's Symphony Hall, The Apollo Theatre in Manchester and a televised performance at the Coliseum in London (home to the English National Opera) –  and a subsequent CD titled 'Rafi Resurrected' will see the equally gifted and hugely popular Indian singer Sonu Niigaam rework some of Rafi's classic hits to the backdrop of the great symphony orchestra.
The man behind this bold project is Tim Pottier who embarked on his Rafi journey after a meeting several years ago with friend Taz Bachir in a café in Birmingham.
"Taz had his own agenda of celebrating the Rafi phenomenon and was convincing me to take on the task of orchestrating a concert of Rafi songs for symphony orchestra", Tim revealed.
"That summer I immersed myself in Rafi to see whether I thought the project was possible and get myself into the Rafi psyche. After some hesitation, we both approached the CBSO who were keen to do the concert as a follow on to their concerts with [Indian composer] A. R. Rahman."
Tim himself was well aware of just how big a singing legend Rafi had become.  
"Rafi's voice is everywhere. Wherever you grow up in the world, the chances are at some point you will encounter a Rafi song at some point in your childhood. "Even if you don't know the name – you've heard the voice. Over the winter I was best man at a wedding on the Cameroon-Chad border. I walked by a garage on the street where my friends live and a Rafi-Lata duet was blasting out of speakers placed at the entrance. I'm unaware of any sizeable South Asian community in the Sahel but Rafi still makes an appearance there".
Once CBSO had approved the project the next step was including Saregama, India's longest established record company who decided to organise the national tour to promote the album 'Rafi Resurrected' – a selection of 18 Rafi tracks which had already been painstakingly picked by Tim and Birmingham Bhangra artist Shin in 2006 for the original CBSO Rafi concert.
A project of this magnitude required a singer that could do justice to the power of Rafi. Saregama turned to Sonu Niigaam – a self-confessed Rafi fan and a singer who has been described as a modern-day equivalent of the great singer.
For Atul Churamani, Saregama's Vice President, there was never any other choice.
"A few colleagues asked me what if Sonu had said 'no' to the project, who else could we get?" he says. "I said if not Sonu, we'll do an instrumental with the CBSO because there isn't anyone else who is considered Rafi saab's heir and who could be credible."
For Sonu the project was what he had been waiting for.
"My reverence for Rafi saab is not hidden from anyone", Sonu told MusicStand.  "He has been the most vital influence in my initial days of learning, thanks to my prolific father Agam Kumar Nigam who introduced me to the mastery of Rafi saab. It's been 28 years since his demise so it's high time that GenX is introduced to his craftsmanship. That will be my tribute to my teacher."
For Sonu there is much that can be admired about his idol.
"He had this immaculate ability to switch moods and tones through his divine voice, thereby giving him a wider repertoire of songs of more genres than any one of his contemporaries could claim. Be it a sad, happy, fast, slow, fun, comedy, devotional, Qawwallis, Ghazals, high pitched songs, comedy, semi-classical or patriotic songs, he excelled in everything. On top of that he was known to be a very good man which reflected so beautifully in his body of work and voice".
While the original Rafi songs bore all the hallmarks of the great Indian orchestra, both Tim and Sonu were eager to keep the authentic CBSO sound and not include any Indian percussion – a move that saw two musical worlds collide with grand effect.
"CBSO brings an outsider's perspective to these songs that are a part of the day to day lives, upbringing and memories of the musical culture of millions of Indian music lovers across the globe," Sonu reveals.
"The songs that have been heard over and over again by us are now interpreted and presented differently by CBSO, and I must say, in spite of the absence of traditional Indian instruments like dholak, tabla, shehanai, the core essence of the song – its dignity is undisturbed. This clearly shows how the music of the world is gradually coming together and speaking the same language with time."
The original recordings of the songs took place in Birmingham, where the CBSO recorded its symphony, and in India where Sonu sang the much-loved array of Rafi hits in front of the world's media in no more than 20 minutes.
As Sonu recalls, "it was fun and so memorable".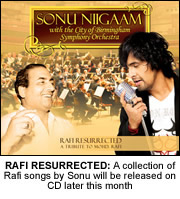 With rehearsals for the summer tour expected to begin shortly, there is an air of excitement surrounding the project. For Stephen Maddock, Chief Executive of the CBSO, "the combination of the orchestra at full tilt, Sonu's great vocals and these fantastic songs should be hard to beat", while the magic of the Coliseum in London will provide a fitting "last word" for Tim Pottier. And for Sonu Niigaam, he is looking forward to the tour "as much as a priest looks forward to going to his temple everyday to bow down to his Lord."
All in all it's a tour of huge significance – for the CBSO, for Tim Pottier, for Sonu Niigaam, and for the millions of Mohammed Rafi fans worldwide who wait with baited breath for their idol to be reborn in extravagant effect.
For every string that is plucked, for every horn that is blown, and for every word that is sang, this summer Mohammed Rafi will come alive once more.
By Zakia Yousaf
Saregama presents Rafi Resurrected starring Sonu Niigaam and the CBSO at Symphony Hall, Birmingham, on Tuesday 15 July, at the Apollo Theatre, Manchester, on Thursday 17 July and at the Coliseum, London, on Saturday 20 July.
"Special Double Album, 20 track CD" titled 'Rafi Resurrected' to commemorate the occasion, will be released on 17th June 2008.