 Five-year ban upheld by PCB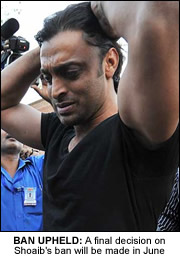 ORGANISERS of the Indian Premier League are considering whether to allow Pakistan fast bowler Shoaib Akhtar to play in the tournament after his five-year ban was upheld by the Pakistan Cricket Board.
Akhtar appealed against the ban, handed down to him by the PCB for violating the players' code of conduct, but lost after a three-man panel upheld the ban until June when a full decision would be made.
The player should be playing in the IPL with Kolkata Knight Riders but was told by organisers he had no place at the tournament considering his ban by the PCB.
But they are said to be considering their options and waiting on court papers from the PCB relating to the ban.
PCB chairman, Nasim Ashraf also made a special plea on behalf of Akhtar urging IPL organisers to allow the fast bowler to play in the tournament.
"We are yet to finalise our position because we will first have to examine what the court papers relating to the ban says," IS Bindra, a member of the IPL governing council, told Cricinfo.
On Wednesday Aftab Farrukh, the head of the three-man tribunal, announced their decision to uphold the PCB ban.
"We have seen Shoaib's track record and believe that he has not learnt any lesson. He flouted discipline of the board, he harmed the chairman of the board and fellow cricketers and above all sentiments of the nation," Farrukh said.
"We considered every aspect of the decision of the disciplinary committee and think that they banned Akhtar on grounds of indiscipline and there was no victimisation."
Farrukh confirmed the panel would meet again in June to make a final decision on Akhtar's ban.
Related Articles