 Everything you wanted to know about the IPL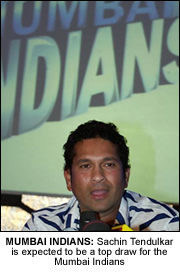 EIGHT teams, Superstar owners, the best cricketing talent on show – it can only be The Indian Premier League. With the IPL kicking off its inaugural match tomorrow here's a guide to everything you need to know about the new Twenty20 phenomenon…
What is the Indian Premier League?
The Indian Premier League (IPL) is a new Twenty20 tournament created by the Board of Cricket Control in India (BCCI) and crucially has the backing of the International Cricket Council (ICC). The league is made up of eight teams – all with a colourful variety of names! The action kicks off tomorrow.
I'm confused – isn't there an Indian Cricket League?
Yes there is and it came into existence before the IPL. It was launched last year by Subhash Chandra – the man behind Zee TV. He unsuccessfully tried to buy the media rights to three major cricketing tournaments before setting up the ICL – as one of his right-hand men admitted "They denied us the cricket content so we had to create our own content". The ICL never had the backing of the ICC and was termed an 'unofficial league' because of this. Players were advised not to join the league by their own cricket boards – and in Pakistan's case threatened with expulsion if they did.
Now in its second edition the ICL still has issues with international cricket boards and is expected to be come second to the hugely publicised IPL.
So what's with the love for Twenty20 cricket all of a sudden?
Believe it or not Twenty20 cricket was born right here in England in 2003. The format is widely seen to be a more entertaining form of the game which has succeeded in bringing in a whole new generation of cricket fans who don't want to spend 5 days watching Test cricket! The inaugural Twenty20 World Cup in South Africa last September was a phenomenal success which saw India nudge out arch-rivals Pakistan to lift the trophy.
Ok back to the IPL – I hear there's major money involved!
The IPL is the undoubtedly the 'Bling Bling' of the sporting world! Considering players will only have to be on duty for six weeks the numbers involved is mind boggling. The biggest amount paid for a player for the first tournament was £759,000 – paid by Chennai Super Kings for Indian wicketkeeper Mahendra Singh Dhoni. The most for an overseas player was £683,000 for Australia's Andrew Symonds who will play for Hyderabad Deccan Chargers. Players aside the BCCI have already made in excess of £800million through a combination of TV rights and sponsorship.
So which players can we expect to see in the IPL?
A number of major Indian players will be on show – Sachin Tendulkar, Mahendra Singh Dhoni, Sourav Ganguly, Anil Kumble and Rahul Dravid are just a few.
Non-Indian players include Jacques Kalis, Shahid Afridi, Ricky Ponting, Muttiah Muralitharan, Matthew Hayden, Shane Warne, Shoaib Malik and Chris Gayle – making the IPL the biggest show of cricketing talent aside from the World Cup.
I've noticed you don't mention any England players in that list
Well I don't because there's only one –Dimitri Mascarenhas. The IPL clashes with the start of the England County Championships and the English Cricket Board (ECB) have made it clear to the players that their commitments lie with county cricket and not the IPL. Add the fact that England are due to tour New Zealand shortly which in all doubt put an end to any high-profile English cricketer joining the IPL. Some reports also suggest the ECB are looking to launch their own Twenty20 league and as such don't want the likes of Kevin Pietersen or Freddie Flintoff tied down to contracts with the IPL.
I've heard there's a lot of Bollywood interest in the IPL?
You're right there! I can comfortably say while we won't be getting any of the players singing and dancing their hearts out on the pitch, off it you'll more than likely catch some big name Bollywood stars in the stands. Shah Rukh Khan – an avid cricket fan – is the owner of the Kolkata Knight Riders along with fellow Bollywood actress Juhi Chawla, while Preity Zinta and beau Ness Wadia snapped up Kings XI Punjab for a cool $76 million.
What's the low-down on the teams?
The teams are as follows:
Bangalore Royal Challengers
Captain: Rahul Dravid – £524,000 salary
Star Players: Jacques Kalis, Anil Kumble, Zaheer Khan
Cost of Squad: £2.9million
Mumbai Indians
Captain: Sachin Tendulkar – £567,600 salary
Star Players: Sanath Jayasuriya, Harbhajan Singh
Cost of Squad: £2.78million
Kolkata Knight Riders
Captain: Sourav Ganguly – £552,950 salary
Star Players: Ishant Sharma, Ricky Ponting, Umar Gul
Cost of Squad: £3.15million
Delhi Daredevils
Captain: Virender Sehwag – £422,100 salary
Star Players: Glenn McGrath, Daniel Vettori
Cost of Squad: £3.22million
Chennai Super Kings
Captain: Mahendra Singh Dhoni – £759,000 salary
Star Players: Matthew Hayden, Muttiah Muralitharan
Cost of Squad: £3.15million
Kings XI Punjab
Captain: Yuvraj Singh – £538,570 salary
Star Players: Brett Lee, Mahela Jayawardene
Cost of Squad: £3.29million
Rajasthan Royals
Captain: Shane Warne – £220,000 salary
Star Players: Graeme Smith, Younis Khan
Cost of Squad: £1.83million
Hyderabad Deccan Chargers
Captain: VVS Laxman – £173,000 salary
Star Players: Andrew Symonds, Adam Gilchrist
Cost of Squad: £3.09million
So when does the action kick off?
The IPL will kick off tomorrow with the Bangalore Royal Challengers taking on the might of the Kolkata Knight Riders at the Chinnaswamy Stadium in Bangalore.
Where can I watch it?
It's live on Setanta Sports from 3.20 pm