 Play for ICL,forget about Pakistan, says PCB chief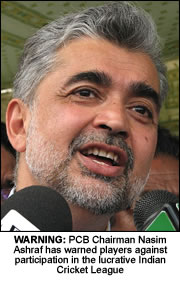 THE PAKISTAN Cricket board has told players considering signing up to the lucrative Indian Cricket League they will have to forfeit their international careers if they do so.
PCB chief Nasim Ashraf set down the ultimatum after several reports suggested up to seven contracted Pakistan players had been approached for the ICL.
Those reports proved to be false after Shoaib Akhtar, Mohammed Asif, Shahid Afridi and Younis Khan all turned down invitations to join the professional league.
So far the ICL, which is not recognised by the ICC or the Indian board, has only managed to sign up former West Indies captain Brian Lara and Australian Shane Warne. Former Pakistan captain Inzamam-ul-Haq is also considering an offer from the ICL.
PCB chief Nasim Ashraf had said any Pakistani player joining the league would not have a career on the international scene – and the ultimatum seemed to work.
"We had faith in our players that they will not join the Indian league," Ashraf told reporters in Karachi.
"Younis was made the offer in England where he is playing county cricket but he told the official who contacted him that he is happy playing for his employers Habib Bank and for Pakistan.
"I was least bothered because I know my players and was sure that they would not join any league which is neither accepted by the Indian board nor by the ICC," he added.
"I am pleased to know the players' sentiments and they proved they only want to play for Pakistan. The league is only signed by players who have either retired or are on the verge of retirement so we were not bothered."