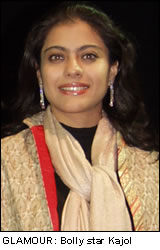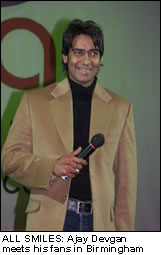 BIRMINGHAM was abuzz with all things Asian this
weekend as thousands flocked to the annual Mela at the NEC.
The celebrations, which have been staged in the UK's second city since it began life in 1998, brought together the best in Asian culture.
This year Bollywood superstar couple Kajol and Ajay Devgan were joined alongside heartthrob Saif Ali Khan in bringing some glamour to the popular event.
Former stars to have graced the celebrations have included Juhi Chawla, Anil Kapoor and Hritikh Roshan and they have proved to be a hit with visiting guests.
And this year proved to be no different as crowds flocked to catch a glimpse of their favourite screen stars.
On stage interviews with Kajol and Ajay Devgan offered fans a glimpse into the lives of Bollywood's biggest couple.
The duo, who have been dubbed India's version of Posh and Becks, greeted fans and answered questions on what life was like being a Bollywood star.
But it was homegrown musical talent which was greeted with the loudest cheers.
Asian music trio Rishi Rich, Juggy D and Jay Sean could not have expected bigger cheers as they took to the entertainment stage to play a host of their most popular songs.
The trio, who are Asian music's biggest stars in the UK, wooed fans with a selection of the songs that have made them so popular among British Asians.
They were joined on stage by Birmingham bhangra star Hard Kaur and Hunterz in getting fans to their feet in the entertainment theatre.
Were you at Mela 06? What did you think of the Mela?