 Pakistan duo pay price in doping shame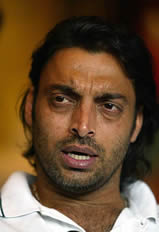 FAST bowler Shoaib Akhtar may well have played his last game for Pakistan after he was banned for two years for testing positive for a banned drug.
The 31-year-old, along with team mate Mohammad Asif who was handed a one year ban for the same offence, will miss next years World Cup in the West Indies.
The duo were sent home from the Champions Trophy in India earlier this month after traces of banned substance Nandrolone, which aids in muscle building, were detected in blood tests undertaken by the Pakistan Cricket Board.
A three-man drugs panel comprising of Shahid Hamid, Intikhab Alam and Waqar Ahmed, handed down the punishments saying the two players "failed to prove their innocence" in reference to an offer given to the players to have their 'B' samples re-tested.
The panel were adamant they had made the right decisions in handing down the tough punishments.
"We didn't have any doubts in our minds about what we have announced", former Pakistan captain Intikhab Alam said.
"They were not able to convince us of their innocence. It was crystal clear. They admitted themselves that they had been taking dietary supplements. They are both adults and players have to be responsible for their own actions. Sometimes you have to take these decisions. We have done a good job".
He added the panel had to make examples out if the duo to deter young promising cricketers from making the same mistakes.
Hamid refused to bow down to criticism that the panel had acted harshly against Akhtar saying his actions in taking dietary supplements was "negligent".
In Asif's case, he explained: "We decided to ban him for a year because his English is not that good, he comes from a remote village where he would not have been educated on the dangers of drugs in sport and so he doesn't understand".
The news has sent ripples of shockwaves across Pakistan with coach Bob Woolmer telling new agency AFP the bans "were not good news for Pakistan".
Captain Inzamam-ul-Haq, who is serving a four game ban for bringing the game into disrepute, said he felt the players pain.
Both Akhtar and Asif are expected to appeal against the bans.