 Snober Bhangu's inspirational story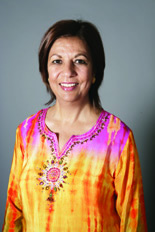 When 63-year-old Snober Bhangu
(pictured right)
 was diagnosed with Breast cancer in 2000 she admits it "came out of the blue". By her own admission she was fit and healthy and has since her early forties taken special care in keeping a keen eye on any tell-tale signs of the cancer. But like many other women across the UK, she became another victim of the disease and went through a six-year battle to beat the disease. Having successfully battled and beaten the disease, Snober admits her quality of life has improved since the diagnosis. Now a volunteer for Breast Cancer Care in the Midlands, Snober, who lives in Derby, will take her inspiring work to new levels this month when she takes to the catwalk for the first time as Breast Cancer Care's glittering annual fashion show.
The mother of two will be joined by 21 male and female models all of whom have had breast cancer, in what will be a unique and inspirational event. The Show, now in its 10th year aims to demonstrate that anyone can feel confident and look amazing after breast cancer surgery regardless of age or background.
Here Snober tells her remarkable story in the hope she can encourage Asian women to become more breast aware. 
"My cancer journey began six years ago. Since my early forties I had been very breast aware and self examined on a regular basis. I also went for my regular mammogram appointments in my fifties. However, I had not felt the lump. The first I knew there was something wrong was when I received a 'call-back' letter after a routine mammogram which was generally reassuring saying that nine out of ten lumps are benign. I felt naturally anxious but did not panic at this stage.
On the day of the hospital appointment I took my husband with me and I am glad I did. After a few tests including an ultrasound scan and a biopsy I was told "You have a small growth in your right breast. It is malignant but treatable. So we need to take it out". The consultant was very supportive and sympathetic. Although the word cancer was not mentioned I knew. I felt numb and my body seemed literally to shut down. I was not prepared for the shock as I generally felt fit and healthy. The news came out of the blue. I felt overwhelmed but remained calm. Coming home and telling the children was very hard. They were shocked but with my husband, family and friends they rallied around and got me through a tough time. My husband has been an absolute rock all the way through.
We all have coping strategies at the time of crisis and mine was to find out as much as I could about the disease so that I could make informed choices about my treatment options. I wanted to remain in control and have an input into the decisions made. I was operated on within ten days of my diagnosis. The surgery was a success and involved lumpectomy and lymph node sampling. Fortunately the cancer had not spread. I think I cried then! I also had six weeks of radiotherapy, luckily with not many side effects. I have now finished taking tamoxifen after five years and see that as a turning point in my cancer journey. However, I remain realistic, aware of the risks and take responsibility for my own health.
My motivation to become a volunteer was mainly to contribute back for the overwhelming support from the family, friends and the health professionals. I also wanted to raise and increase awareness of the disease in the community, breakdown barriers and alley fears by sharing personal experience, knowledge and information. I hear of women from the minority groups who do not attend their check ups and it worries me. There is still a fear and stigma of the disease in the Asian community and it is often a taboo subject. And yet it is absolutely vital for all women to remain breast aware throughout their lives, report any changes to their GP immediately and keep routine mammogram appointments, as early detection is the key to a positive outcome.
For most women diagnosis of breast cancer is a very emotional experience. It is connected with your body image and feelings of femininity. Getting involved in the fashion show for me is to send a positive and inspirational message that there is life after breast cancer and women have a choice in feeling and looking good and leading a normal life. I am looking forward to the fashion show and feel privileged to be part of a worthwhile cause.
Breast cancer is a scary experience and I had to dig deep to find strength and courage to beat it. Now I am fully recovered and there are so many more important and rewarding things to fulfil my life. I have moved on. My priorities are different and I do not take anything for granted. I do not worry about little things. I am aware of my diet and lead a healthy life style. I have taken up new hobbies and started to travel more extensively. My contribution to public relations and community service has resulted in getting an MBE from Her Majesty this year and my family and friends are very proud of this great achievement. I find volunteering for BCC rewarding, enjoyable and fulfilling. It enables me to put across a positive, key breast cancer messages to other women. I live each day to the full and I am well and happy. I remain positive and optimistic about the future and on a daily basis, I don't worry. And I am very proud of my beautiful and loving family."