 Golden Qasim goes for golden belt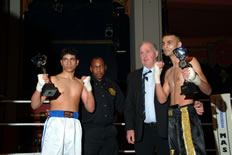 TWO of Birmingham's most respected young kickboxers will meet head to head later this month when they do battle for the Golden Belt Championship in Liverpool.
Qasim Nisar and Rajesh Salan, two of Birmingham's brightest kickboxing talents, will meet for the second time this year in a rescheduled rematch of the final after Salan twisted his ankle in the original final in April.
17 year old Sheldon fighter Qasim who is an amateur two times British and two times European junior Champion is now competing in the seniors and in a little over a year has built himself an impressive record of 11 Fights 10 Wins 7 KO's with 1 No Contest making him one of the most talked about prospects in the country.

The no contest came in April this year when facing local Birmingham rival 'Razor' Rajesh Salan in the Golden Belt tournament at the Liverpool Olympia.

All was going to plan with both fighters reaching the final with impressive victories only for their match to end prematurely in the first round after Salan twisted his ankle.

For Qasim, dubbed 'The Dream, the forthcoming title challenge is a perfect opportunity to continue his winning and unbeaten streak, and the young prospect is working hard to make sure his six month wait for the rematch works in his favour.
His preparation for the match took him to Leicester last week where he systematically took apart Burton On Trent's Michael Harbone by a 3rd round stoppage after having his man down 4 times.
Coach and former kickboxing champion Neil Kelly who puts Qasim through his paces at the USKA Kickboxing Academy in Sparkhill, Birmingham, said his protégé was an "inspiration" to the younger members of the academy.
"I don't know anyone more motivated and driven as Qasim in terms of he knows what he wants and he knows what he has to do to get it", he said.
"All the youngsters in the gym look to him for inspiration and he is aware of his role model status and does not want to let them down every time he climbs through the ropes.
"Nothing can stop this kid from achieving his goal of becoming a World Champion and we can all say that we were there in the beginning."

A week after the Golden Belt fight Qasim is due to fight in Copenhagen Denmark and in October and November has two more high profile fights planned which will be announced as soon as the Golden Belt challenge is complete.