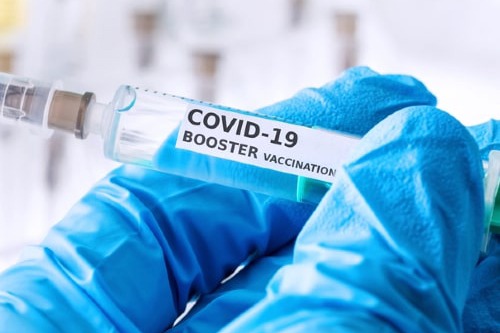 Thousands of people are trying to book their Covid booster jabs today and this has led to the NHS website crashing, the government has said.
Walk-in vaccine centres in England were seeing long queues after Boris Johnson announced an expansion to the booster rollout on Sunday evening, in response to the Omicron variant.
Booster bookings for over 30s opened from Monday, while 18-29 year olds are due to begin booking on Wednesday.
An NHS Digital spokesperson said: "The vaccine booking service is facing extremely high demand and is operating a queuing system to manage numbers.
"We would advise people currently unable to book to try again later today or tomorrow."
The Department for Health said the government was looking into the issue which had arisen after the announcement on daily testing.
A spokesperson advised people to go to local pharmacies where testing kits are still available.
Under the new policy, people who have been in contact with a Covid case will not need to isolate if the daily tests remain negative for seven days and they have had at least two vaccine doses.
Anyone who has a positive result from a rapid test should take a confirmatory PCR test to verify the result, as well as continue to self-isolate.
In the West Midlands, a long queue of about 200 people was forming around a car park and side roads at the back of the vaccination centre in Lye, near Stourbridge.
People at the front said they had waited for about an hour to reach the entrance, with some people with booked appointments choosing to leave after being forced to wait.
Health Secretary Sajid Javid said the new highly transmissible Covid-19 variant was spreading at a "phenomenal rate", with cases doubling every two to three days.