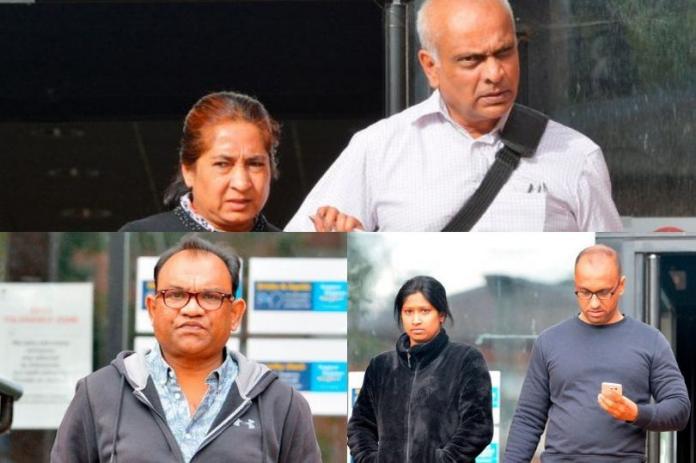 Five people are on trial at Leicester Crown Court accused of running a professional money laundering operation from there house in Belgrave.
The defendants are accused of using a sham money transfer business to handle £11 million of criminal cash.
Money was regularly sent abroad fictitiously based on income from non-existent customers and bogus invoices, it was claimed.
The unexplained cash also funded the purchase of property, luxury holidays, jewellery and gold bars.
Michelle Heeley QC, prosecuting, told Leicester County Court: "This case is about money, dirty money, criminal money that was put through the books of businesses to make it look as if it was legitimate.
"It wasn't. We're talking about £11 million in cash that has gone through a business being run from a terraced house in Canon Street, Leicester.
"The money has disappeared abroad to places like Hong Kong and India.
The five accused are Chauhan Yogendrasinh, 55, director of the alleged money laundering business, Rushi Investments, and his wife Moushamiben Chauhan, 52,  both of Lichfield Drive, Blaby.
The co-accused are their alleged employees, Bhavesh Suclo, 40, of Westbourne Street, Belgrave, his wife Jignasha Jignasha, 56, of Canon Street, Belgrave, and Pankashbai Deugi, 52, of Wand Street, Belgrave.
All five have pleaded not guilty to conspiracy to transfer criminal property between January 2011 and March 2016.
Miss Heeley added: "The Prosecution cannot say from what criminal enterprise this money has come from, but we say the amount of money and the lengths that have been gone to to hide it mean that it is criminal money that is being laundered.
"The company business involved, on the face of it, taking small sums of money and sending it abroad to other people.
"It's the prosecution case that what appeared to be a legitimate money transfer service was in fact a professional money laundering operation, run by a team headed by Mr Yogendrasinh, who ran it with his wife, Moushamiben Chauhan, and trusted associates.
"They ran it under the guise of a sham business.
"A sham money transfer service.
"But their aim was not to transfer money for legitimate customers who can be found and spoken to, their aim was to transfer money for criminals who would never want to leave the shadows."
The trial continues.