The figures for forced marriages are still on the high and with the summer holidays approaching it is even a more worrying time as many will not return for their next academic year.
The Government's Forced Marriage Unit (FMU) is urging teachers to be alert to students who may be at risk of forced marriage.
A forced marriage is defined as one in which one or both spouses do not or cannot consent to the marriage, and violence, threats, or any other form of coercion is involved, and is a criminal offence.
The Forced Marriage Unit (FMU), a joint Foreign and Commonwealth Office (FCO) and Home Office provides support to victims of forced marriage as well as expert training and guidance to professionals working with victims or potential victims.
To help teachers recognise potential forced marriage victims, the FMU has identified three important warning signs to look out for over the next few weeks:
A student is anxious about or is fearing the forthcoming school holidays
Surveillance of a student by cousins or siblings at school or being met by family at the end of the day
A student is prevented from going on to further or higher education
Other signs to consider include: persistent absence; requests for extended leave; decline in behaviour, performance or punctuality; not being allowed to attend extra-curricular activities or sudden announcement of engagement to a stranger.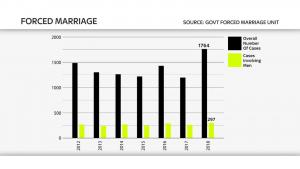 The number of forced marriage cases rose by 47% in 2018 compared to the year before with a rise of male victims of 297, the highest number reported in seven years.
It's more common for young women being forced into marriage by dominant male family members but it is also a significant problem for young men too.
The country with the highest number of cases of forced marriage was Pakistan with 769 cases, followed by Bangladesh with 157 cases.
Officers from across England and Wales will join with UK Border Force where Operation Limelight will focus on flights connecting the UK to destinations where there is a high prevalence of forced marriage. Airport and airline staff will be educated to spot the signs and increase their confidence in reporting suspicious activity to police. Intelligence will be used to identify and seek victims who are about to leave or have just arrived back in the UK
Forced marriages have only been criminalised since 2014, and while men are now beginning to find their voices, campaigners insist the real proportion of male cases are much higher.
Natasha Rattu, the executive director of charity Karma Nirvana, said she hears from victims of honour-based abuse and forced marriages almost every day.
In a statement, the minister for Crime, Safeguarding and Vulnerability, Victoria Atkins, said forced marriages were an "abhorrent crime", and could "mark the start of years of abuse".
She said: "In 2018, the Forced Marriage Unit provided support to more victims than ever before. We will continue to raise awareness of forced marriage so that all those affected by it know where they can go for support."
The reasons behind why it happens – there's a protection of perceived cultural and religious beliefs that parents hold, and in many cases a child will be promised to someone from a young age. Breaking that promise between families is seen as a 'dishonourable' act.
.