We congratulate organizer Bobby Bola and his team at Culture Unite for another smash hit National Bhangra Festival which took place on Saturday 22nd June 2019 at the luxurious Regency Banqueting Suite, 265 Hagley Road, Birmingham B16 9NA.
This sell out family event for all generations was filled with Live Performances, Dinner, Dance and Exhibition. There was an amazing atmosphere with attendees that included members of the Bhangra industry fraternity, VIP's, Dignitaries, general public from across the UK and beyond! Communities and cultures were truly united by the vibrant art form of Bhangra.
There was superb hosting by Apna Bhajan Jagpal, Pam Sidhu, Manpreet Darroch and Mohanjit Basra, who kept everyone engaged throughout this entertainment extravaganza. A special mention goes out to Chandni Kahn for her management of the hosting team and contribution towards this successful journey in promoting Bhangra, culture and unity.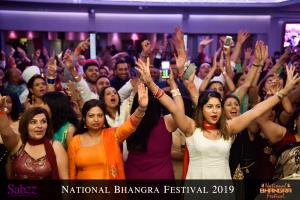 The audience were captivated throughout by breathtaking music and dance performances which included; Jin & Seetal Band, Kadam Verma, Subaig Singh, Banger, Shin Cobra, Jeet Kaur, Gurdeep Kainth, Khushi Kaur, Shehzadi Sultan, K Mohito, Kajal Soni, Royal Keys, Khadija Dilnawaz, Ruby Akhtar, Shrii Gautam, Dhol Frequency, Dhamak Panjabna Di, Haripa Dancers, Virse De Waaris, 4all2envy, Birmingham Crew DJ's.
Photos in this article are courtesy of official event photographer Sabah Ashraf from Sabzz Photography who masterfully captured the magical moments at this truly memorable occasion.