INSIGHT WESTMIDS, a Community Interest Company (CIC) distributed hundreds of free sweet packs to celebrate Ramadan on Colmore Row yesterday (23 May 19) INSIGHT WESTMIDS received £300 FUEL funding from the Beatfreeks collective. Fuel is a pot of money which young people in the Beatfreeks Community aged 18-30 can use to react to social issues that are important to them.
Atif Ali who is the founder of INSIGHT WESTMIDS, decided to make the packs and apply for the funding as a result of the recent issues in the World (Sri Lanka Bombings & the Christchurch terror attack). As well as closer to home the vandalism of Birmingham mosques. The idea of the packs was to promote an understanding of Ramadan, which as well as being one of the five pillars of Islam, is the nine month of the Islamic Calendar and involves a month of fasting, prayers, reflection and community. Some 250 packs containing; a date, which Muslims use to open their fast, a selection of veggie sweets and a card explaining; 'What is Ramadan', were handed out to people at Cathedral Square at lunchtime.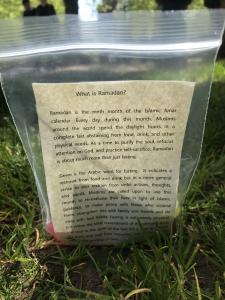 The plan is to produce a sweet pack for 'Eid Al-Fitr' which is the religious holiday celebrated by Muslims worldwide that marks the end of Ramadan. Eid is the first and only day in the month of Shawwal during which Muslims are not permitted to fast. The Fuel funding will allow for a total of 50kg of sweets which are suitable for vegetariansto be purchased in total as well as some 500 dates.
Jordanne Wilson, Apprentice Building Surveyor at Savills Birmingham offices, who received a pack tweeted;
"Just a quick thank you to @IWestMidsfor their Ramadan Mubarak Sweet Packs – my team really enjoyed the ones I brought back for them and I enjoyed the opportunity to learn a little more about Ramadan." (@JordanneWilson3)
Anthony McCourt, Director at Court Collaborations, who colleagues the Ramadan sweet packs wrote on LinkedIn;
"It was such a lovely gesture and so welcome. Everyone at Court Collaboration is very appreciate of such a nice gesture at such a holy time for you and your community. Thank you so much Sanya and Atif."