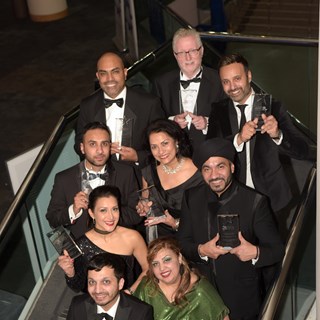 Anita Bhalla, who has enjoyed a 26-year career with the BBC and is now devoting herself to working to improve the West Midlands, was honoured with the President's Award at the Asian Business Chamber of Commerce (ABCC) dinner at the ICC on Saturday.
President Saqib Bhatti said the decision was "one of the easiest I have had to make" and added: "While there are many exceptional people deserving of this award, I believe Birmingham and the West Midlands are extremely lucky to have someone of this calibre working tirelessly to improve our region."
Her achievements include setting up the BBC Asian Network in the West Midlands and she paved the way for British Asian culture to enter the mainstream.
She has also held senior roles at the BBC, including head of political and community affairs. Anita was also head of public space broadcasting overseeing the big outdoor screens which delivery experiences such as the Last Night of the Proms and the  2012 Olympic and Paralympic Games in London.
Anita is a former chair of the Midland Arts Centre and is now chair of Performances Birmingham, which manages the Town Hall and Symphony Hall.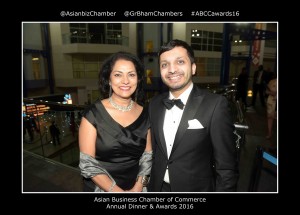 She is chair of Creative City, an initiative of Greater Birmingham and Solihull Local Enterprise Partnership, set up to create jobs and wealth in the region.
Anita has also won several awards, including the CRE's Race in the Midlands national television news award and in 2009 she was awarded the OBE for services to broadcasting and communities.
She was also a community worker in Handsworth, Birmingham, where she set up and ran
one of the first hostels for Asian Women, as well as dealing with wider issues around welfare and social care.
In receiving the ABCC President's Award, she joins a distinguished list of individuals, including Nobel prize winner Malala Yousufzai.
Saqib added: "For me, Anita epitomises the very best this region has to offer and we would be lucky to have many more like her."
This year's award winners are:
Outstanding Start-up Business of the Year
Sponsor: Technocopy Solutions.
Winner: Big Events Co
Kasim Choudhry created his business in 2014 and has developed it into a dynamic and innovative company which aims to design something different for every occasion.
His first big success came when in 2014 he won the tender to run the Birmingham Mela for the City Council.
Since then the business has grown to organising five major events nationwide plus 15 smaller events.
Kasim attributes his success to hard work and recruiting a good team.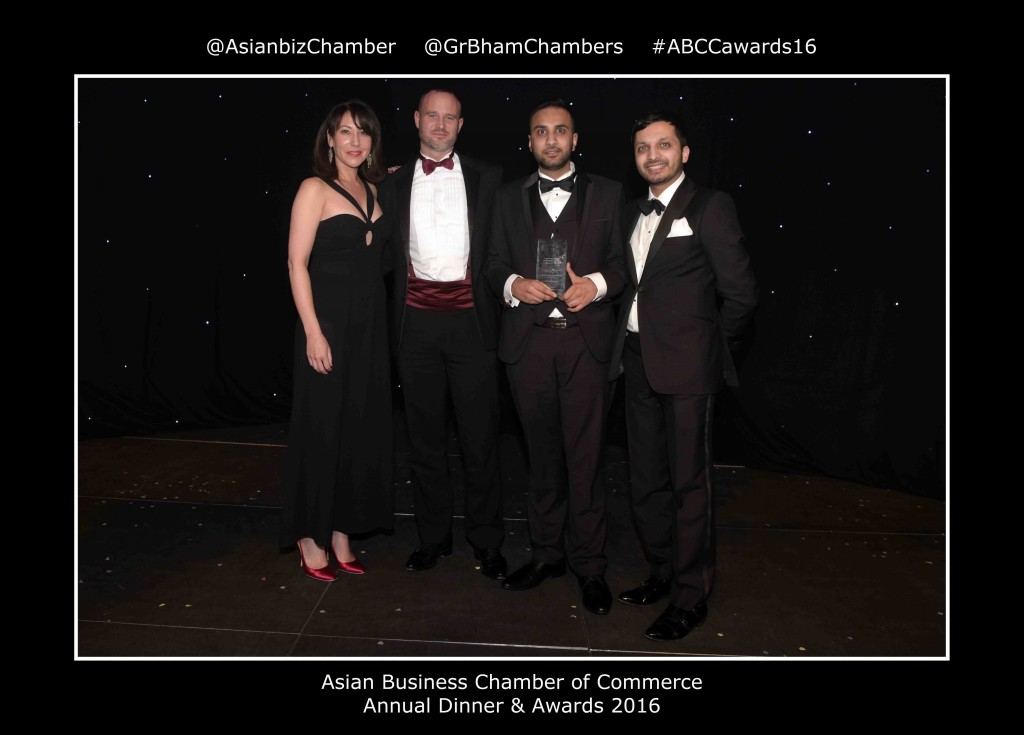 Outstanding Large Business
Sponsor: Birmingham Airport.
Winner: Al Rayan Bank
Al Rayan Bank has pioneered Sharia compliant retail banking in the UK since 2004 and offers the country's largest range of Islamic retail financial products. By exclusively focusing on banking activities which follow the values of Islam, Al Rayan Bank makes a real and lasting difference to customers throughout the UK.
Outstanding Business Woman
Sponsor: RationalFX
Kavita Parmar, Word360

Having originally qualified as an optometrist, Kavita practiced Optometry before giving up her vocation to follow her entrepreneurial spirit and invent Adaptawear, an adaptive clothing company.
Kavita bought Word360 in 2013 with her partner and has turned the business into an international success.
She has held numerous board level positions including chairperson of Hallfield School PTA.
Outstanding Contribution to Society
Sponsor: West Midland Reserve Forces & Cadets Association
Winner: Accord Group
The Reducing Domestic Violence project at Ashram Housing Association – part of the Accord Group – supports women and children who have been victims of violence or abuse.
The Accord Group works with vulnerable women and families who may be homeless, as well as offering services to people within their own homes.
Services range from secure, comfortable refuges (including one of the largest in the country), to short-term floating support for women who have settled into new tenancies.
Outstanding Customer Service

Sponsor: Human Appeal
Pushkar Cocktail Bar & Dining – joint winner with Al Rayan Bank (see Outstanding Large Business)
Pushkar is a multi-award winning fine dining Indian restaurant and cocktail bar on Broad Street in Birmingham city centre, serving exquisite Punjabi & North Indian Cuisine.
Key customers include city professionals and corporates as well as intimate family/friends dining parties. Pushkar also has many celebrity diners from across the world.
Outstanding Small Business
Sponsor: BCRS Business Loans
Winner: Kavita Parmar, Word360 (see Outstanding Business Woman)
Recognition of the Support for Apprenticeships Award 
Sponsor: South and City College Birmingham
Winner: Balfour Beatty
Balfour Beatty and South and City College have been working in partnership for many years in creating construction placement opportunities for the college's construction students at key developments across the West Midlands.
Placement opportunities have successfully resulted in jobs and apprenticeships.
With Balfour Beatty's full on-going support the college has been able to offer existing students the best possible opportunities in exposing them to the construction industry and the work experience and employment opportunities that are available to them.