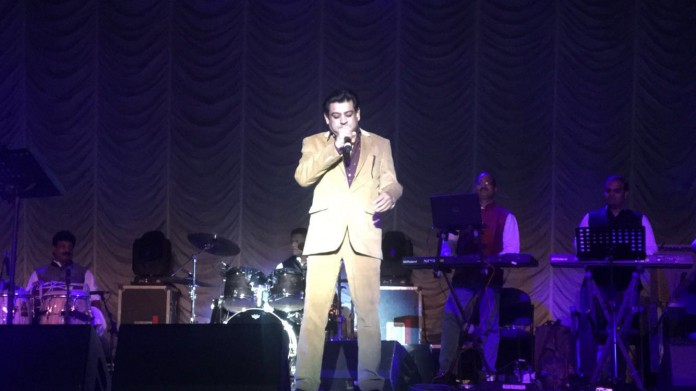 UK saw one of India's legendary music personalities – Amit Kumar, son of the renowned Indian singer and actor Kishore Kumar and the Bengali singer and actress Ruma Guha Thakurta – perform at two sell-out concerts on 22nd October 2016 at Logan Hall, London and 23rd Oct 2016 at DMH in Leicester for his tour: Yeh Shaam Mastani. He was joined by his younger brother Sumit Kumar, also an accomplished singer.

The concert was held in honour to celebrate the work and life of three of India's biggest Legends: R. D Burman – Indian film score composer who is considered one of the seminal music directors of the Indian film industry; Kishore Kumar – the most successful playback singer of the Hindi film industry; and Rajesh Khanna – Bollywood's first superstar. Amit and Sumit Kumar performed yesteryear hits such as Yeh Shaam Mastani, Zindagi Ka Safar, and many more, taking audiences on a walk down memory lane. 
In addition to his sold-out tour, on 19th October 2016, Amit Kumar participated in an intimate soiree and interaction at the prestigious Nehru Centre where he discussed his career in Bollywood and his experiences of watching musical greats such Kishore Kumar and Mohammed Rafi.  Interviewed by Mr Suresh Kumar, promoter of the Concerts and Chairman of Indra Travel, Amit Kumar shared teasers of some of the golden records of Bollywood as well as exclusive anecdotes from the era. 
Also on 20th October 2016, Amit Kumar achieved a milestone by being recognised as the first Indian artist to be awarded an esteemed accolade for "50 Years of Contribution to Indian Music" by the House of Commons. The event was organised at the historic Houses of Parliament in Westminster, London – the seat of the UK government. 
Amit Kumar made his debut as a child artist, singing and acting in his father's film 'Door Gagan Ki Chaon Mein.' His debut album 'Baba Mere' featured his daughter Muktika Ganguly. The video is a touching dream sequence of Muktika Ganguly meeting her Grandfather Kishore Kumar for the first time. The album was a collaboration between Amit Kumar and Leena Chandavarkar Ganguly, wife of late Kishore Kumar.
He formed a production company in 2015, KBM with his brother Sumit Kumar. After the thunderous success of Baba Mere, as his second venture, Amit Kumar released Sapne Banata Hoon – The Dream Maker, at The Nehru Centre, London – the latest home production by Kumar Brothers Music (KBM). The third is scheduled to be released in February 2017.