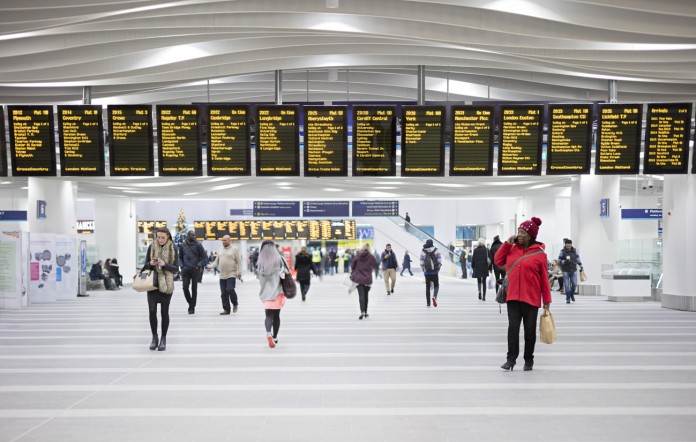 Network Rail's £650m New Street station redevelopment, which opened a year ago, is now over three times the size of the old station with 31 new escalators and 29 new lifts, along with a brand new look and iconic façade and Atrium. To cater for future train demand and create a better passenger experience for all, more energy will be required to power the station. Q Sustain Ltd, working closely with Network Rail, led the charge to explore all avenues to create a more sustainable development and legacy by implementing the best practices and applying an innovative approach to modern train station design.
BREEAM (Building Research Establishment's Environmental Assessment Method) has become the principle measure used to describe a building's environmental performance and Network Rail is dedicated to ensuring best practice for sustainability measures where viable. Q Sustain Ltd successfully led the implementation of the first BREEAM 'Very Good' rated station, as well as the first BREEAM 'Excellent' rated rail building for Cross Country Trains.
These initiatives led by Q Sustain have set a new benchmark in Network Rail of how to adapt and create innovative sustainable solutions in complex rail projects that include an 80m long green wall, rainwater recovery systems predicted to supply 60% of toilet flushing demand, and LED Lighting with close control. 99% of the waste from the project was recycled or re-used and the station is the first to install a Combined Heat and Power (CHP) plant to generate its own low carbon power and heat.
Having won various awards this year including The Construction Excellence Awards (West Midlands) and winner in the Making Birmingham Greener & Healthier Awards the small team are looking to a brighter and greener future in the rail sector being only in the third year of trading. Q Sustain, led by Managing Director and Chartered Engineer, Azhar Quaiyoom, is now looking to expand the business on the back of such success.
Q Sustain has also returned from a recent trip to Malaysia, supporting a team of researchers from The University of Manchester, and aim to support the new High Speed Rail link between Kuala Lumpur and Singapore. "We are looking to expand on the back of our success at New Street Station but remain very keen to involve and encourage more youth from the BAME community into the construction and Sustainability sector,'' says Azhar.