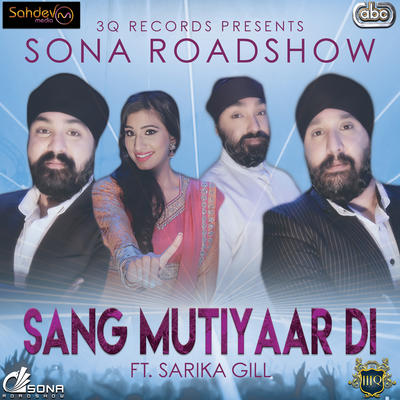 3Q Records are proud to announce the debut single by Sona Roadshow, titled "Sang Mutiyaar Di". Featuring the powerful vocals of Sarika Gill.
DJ Jaz & DJ Manak, Two brothers from Peterborough who had a craze for music and the ability to turn your event into something extra special. They both began by liking different styles of music, then merged together as a team. Jaspal Singh (DJ Jaz) learning music from the age of 9 has a keen passion for Bollywood, Bhangra, Qawwali & Kirtan. Manak Singh (DJ Manak) from an early age has an interest in Garage, Hip Hop, and Bhangra, so together they created a fusion called "Sona Roadshow".
Sona Roadshow has been established since 2005 and has been growing ever since. The team decided to recruit more DJ's/Roadies. Mick Singh (DJ Mixstarr) Influenced by his family DJ Jaz and DJ Manak joined Sona Roadshow. Mix had introduced his own twist to mixing music and DJ'in. Listening to a variety of music from Bhangra, R&B and Hip Hop.
They have had the privilege to play alongside some of the industry's biggest names such as Punjabi MC, Sukhshinder Shinda, Imran Khan, Jassi Sidhu (B21), Jaz Dhami, Nafees, Des-C, Sahara and The Legends Band plus many more.
The Sona Roadshow team have now produced a high energy single titled "Sang Mutiyaar Di" which is sure to rock dance floors worldwide. The single features Sarika Gill who is an established UK female vocalist within the Bhangra industry. Sarika has sang many hits such as Waka, Massi, Jatti Heer, Digriyaan, Bilkul Desi, + Many more. Sarika was also voted the winner of "BEST FEMALE 2013" at the Brit Asia Music Awards.
'Sang Mutiyaar Di' will be releasing worldwide on Thursday 26th May 2016.
Promo Link: https://youtu.be/Xspd2d6EkJY
iTunes Link: https://goo.gl/HXwxzp