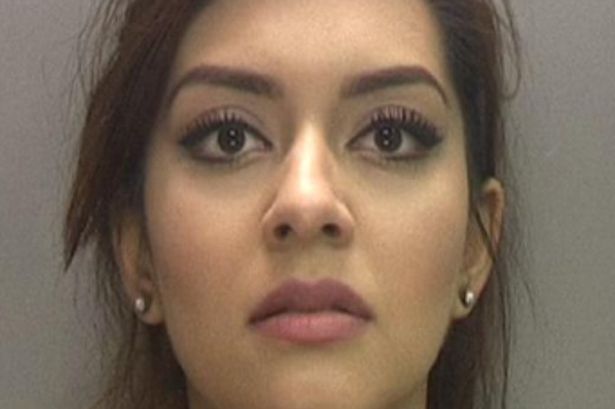 Ayesha Ahmed, of Baptist End Road, Netherton, was caught twice speeding by the same speed camera near her home in St. Peter's Road on July 30th last year.
The 27-year-old was then said to have paid £450 worth of cash to a bous lawyer who claimed to exploit a 'legal loophole' in the system, allowing her to avoid three penalty points being added onto her licence.
Police were told that a Ms Nosheen Yoqum, from Forrester Street, Walsall, was behind the wheel of Ahmed's BMW at the time of the offences.
However, police checks revealed that numerous other speeding offences had been linked to the address along with named drivers who had never been residents there.
As well as police suspicions, Ahmed had previously contacted officials pleading to be excused for the charges, claiming she broke the speed limit because she was being followed.
Ms. Ahmed, who graduated with a 2:1 in International Relations and Politics, admitted her efforts in trying to dodge the penalty points, but thought she had enlisted the help of a specialist speeding lawyer.
After a two day trial, the jury at Wolverhampton Crown court unanimously found her guilty of trying to prevent the course of justice.
Ayesha was sentenced to three months behind bars as well as a 58-week driving ban.
Pc Steve Jevons, of the West Midlands Police Camera Enforcement Unit, said: "Ahmed has paid a heavy price for thinking she could lie her way out of speeding offences.
"We examined footage of the offences and it's clear she was not being followed.
"The jury concluded she was deliberately trying to avoid justice and not, as she claimed, victim of a scam by a bogus lawyer.
"She never met this 'legal expert', didn't have an address or phone number for him, and paid the money via a third party.
"It's a sorry tale.
"She has no previous convictions but a potentially promising career is now in ruins and all because she wanted to retain a clean licence."