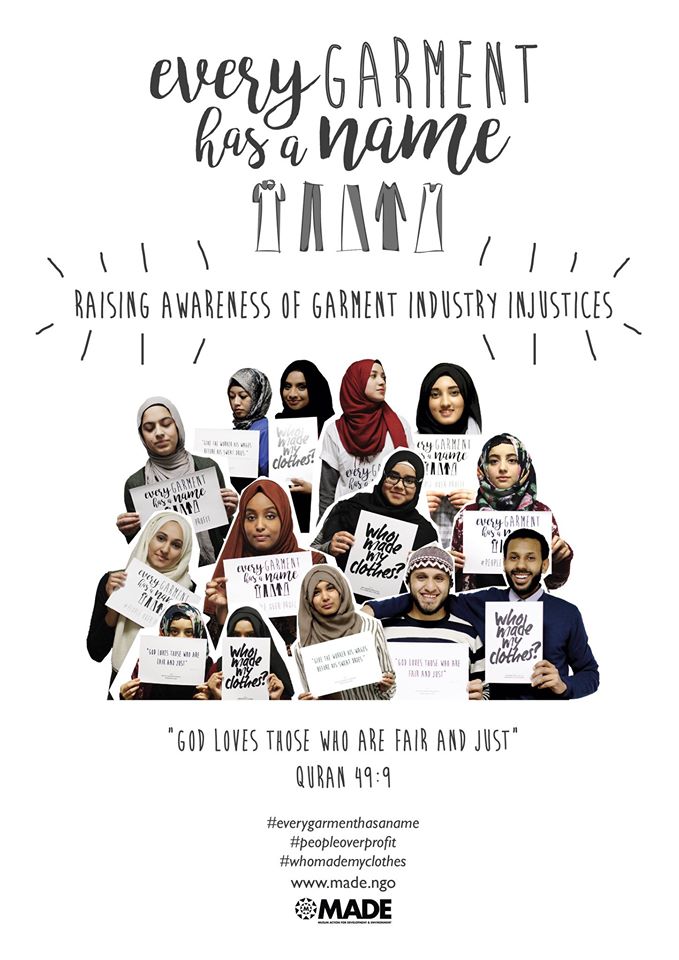 In 2013 the Rana Plaza in Bangladesh collapsed killing over 1100 garment workers and reigniting the debate around worker safety issues and the human cost of fast fashion.
Despite high street brands promising safer working conditions for factory workers, little has changed in three years and millions of workers are still subject to unsafe working conditions and poor wages.
MADE's 'Every Garment Has A Name' campaign inspired by the Islamic teachings of justice and workers' rights is built around the verse in the Qur'an (49.9) that "God loves those who are fair and just".  Bringing together a series of events, workshops and digital actions we want to encourage Muslims to be more conscious of where their clothes come from and to challenge unethical practices in the fashion industry.  It's time to count the true cost of cheap clothing and put people before profit.
MADE are joined with Fashion Revolution during the 18th – 23rd April for the first of these actions to ask brands "Who made my clothes?" By taking part in this wider campaign we want to encourage individuals to also understand the origins of the items they are purchasing whilst making brands take full responsibility of their production.  Following this we have held a film screen, panel discussion and will be organizing a protest to encourage more people to get involved in the campaign.