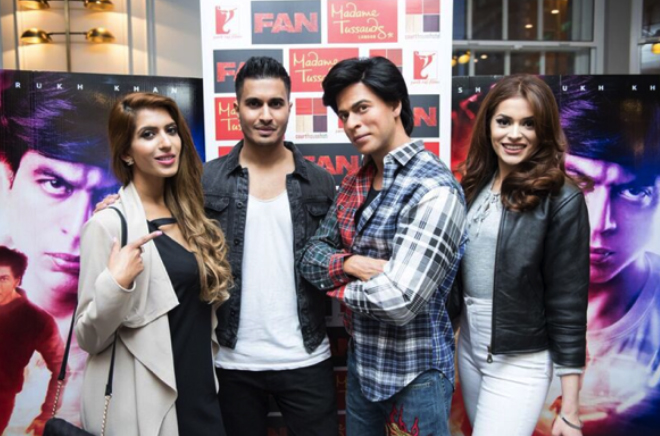 A guest list of celebrity fans and influencers attended a VIP Screening of Yash Raj Films' latest release, FAN, on Thursday 14th April at the newest addition to London's portfolio of luxury hotels, Courthouse Hotel Shoreditch. Ahead of its official launch and as an exclusive preview, the destination venue opened its doors for the very first time to host the VIP Screening against its grandiose backdrop, welcoming personalities such as actors Preeya Kalidas and Ameet Chana; music artists Arjun and Tasha Tah; and Desi Rascals TV stars, Rita Siddiqui and Yasmin Karimi to name a few.
Courthouse Hotel Shoreditch's world-class hospitality indulged guests, who also enjoyed a photo opportunity with Bollywood superstar Shah Rukh Khan's wax figure from world famous attraction, Madame Tussauds London. The wax figure has been specially re-dressed to emulate the actor's celebrity-obsessed character in FAN – Gaurav. This was the first time the attraction has made such special arrangements for one of its Bollywood wax figures and taken it out of the attraction directly to its fans. Shah Rukh Khan himself unveiled the Gaurav-inspired wax figure adaptation at Madame Tussauds London earlier in the week. Sequences of FAN, which sees Shah Rukh Khan play a dual role of Bollywood superstar and obsessed fan, were also shot at the attraction.
Avtar Panesar, Vice President of International Operations, Yash Raj Films said, "Yash Raj Films is delighted to be presenting not only a VIP screening of FAN but also Shah Rukh Khan's Madame Tussauds London wax figure, that has been specially re-dressed as one of his dual characters in the film, Gaurav. This occasion marks several firsts – not only has Courthouse Hotel Shoreditch opened its doors for the very first time to welcome us but, additionally, Madame Tussauds London has recreated one of its Bollywood wax figures as a film character for the first time and taken the figure out of the attraction. We are extremely honoured and grateful."
Girish Sanger, Director, Courthouse London "The Courthouse Hotel Shoreditch was privileged to host its first ever screening for the film FAN. The team was overwhelmed to open its doors for the very first time in order to welcome in the esteemed guest list of Yash Raj Films ahead of the hotel's official opening in May. It was an honour to have the wax for of Shah Rukh Khan as our first celebrity guest and especially as it was the first time he has been let out of London's iconic Madame Tussauds".
Actress Preeya Kalidas said, "Shah Rukh Khan remains such an iconic figure in Bollywood globally and proves once again that he is an outstanding actor of his generation. Every time he releases a film there's such a buzz. FAN is another great SRK film and I'm sure the UK fans will thoroughly enjoy it."
Music artist Arjun said, "I had a great night at the VIP Screening of FAN. Shah Rukh Khan is a legend who delivers yet another stand out performance in his double role in FAN. I'm sure fans worldwide will enjoy this film and what can I say… I'm definitely a Jabra FAN of SRK. "