England Spinner, Moeen Ali, took to the Twittersphere to express his outrage at being detained at Birmingham Airport for 40 minutes by Border Force officials on Saturday.
The 28 – year- old cricket personality had been returning from England's runner-up showing at World Twenty20 in time for the opening game of the 2016 County Championship, when he was stopped.
The Birmingham – born sports star branded his treatment a "joke," adding that such incidents have never occurred when he travelled with the team in official uniform.
He wrote: "Have never been stopped at the airport when travelling with a team in uniform, but travel alone and get stopped for 40 minutes!! Joke."
He later tweeted: "Birmingham Airport!! Hard times."
'Citizen Khan' star and local Brummie Adil Ray, lent his support to the cricketer adding: "It's a joke Mo. I get stopped all the time now. "Even the eye thing on my passport mysteriously stopped working."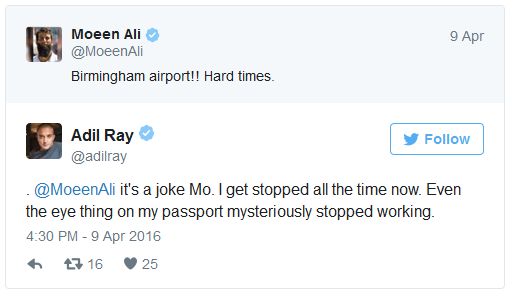 Fellow cricketer, Owais Shah added: "your beard might have something to do with it."
In response to enquiries about the incident, Birmingham Airport took to twitter, explaining that Ali had been stopped for not declaring that he had exceeded his duty free allowance.
To which the player responded: "Apparently can't buy gifts for the family that's more then £390."