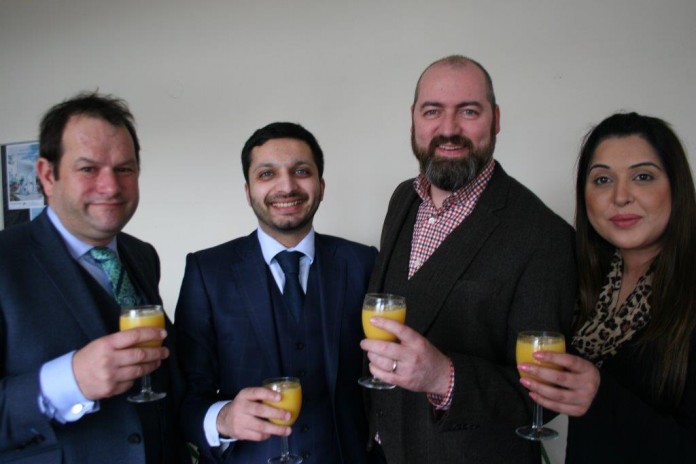 Picture: l-r: Damian Goom, Saqib Bhatti, Tony Elvin and Anjum Khan
Two of Birmingham's premier hotels – Malmaison and Hotel du Vin – have joined the ranks of leading corporate organisations to support the Asian Business Chamber of Commerce (ABCC) as Premier + Partners.
Welcoming them on Board, ABCC president Saqib Bhatti said: "The partnership has brought together three of Birmingham's leading brands – the ABCC, Malmaison and Hotel du Vin – and we look forward to progressing our future co-operation."
He added: "We first established links with Malmaison and Hotel du Vin a couple of years ago and are delighted that our relationship has now developed into a more permanent arrangement."
Damian Goom, general manager of Malmaison, said that the hotel had previously hosted functions for ABCC, including after-party celebrations following its annual dinner, while Tony Elvin, general manager at Hotel du Vin, said that he also looked forward to strengthening its ties with ABCC. "Since being recommended to get involved with ABCC by two business associates we have been able to appreciate, at first-hand, the importance of its role within the community," added Tony.
Damian commented: "Both Malmaison and Hotel du Vin have developed a reputation as premier establishments in a 'stand out' city and, as Birmingham continues to attract increasing numbers of tourists, our mission is to maintain our position as a leading provider of quality hotel accommodation."
Both hotels are part of Frasers Hospitality Group, which, since its inception in 1998, has developed into a global organisation with more than 130 properties in 78 major cities around the world. The Hotel du Vin building situated in Church Street, dates from the Victorian era and was formerly an eye hospital, while Malmailson is located at The Mailbox – once a Royal Mail sorting office but now an upmarket shopping and dining destination.
Birmingham hotels recorded a record 81 per cent occupancy rate in October 2015 – in sharp contrast to the time when it had the lowest occupancy rate in the UK – and to date 11 more hotels are in the planning or construction process in the city.