Birmingham city councillor Waseem Zaffar was caught in a heated debate with Tommy Robinson, head of anti-Islamist group Pegida.
Waseem didn't  pull his punches. He told Tommy  Robinson he  was inciting  hatred.

During the debate, held at the Assemblies of the First Born Church in Lozells, the Labour councillor told the far right group head that there was no place in the city for his divisive ideology to be paraded,saying that the former EDL leader along with his followers were not welcome in the city.
Speaking after the clash, Coun Zaffar, Labour representative for East Handsworth and Lozells, said: "They are taking Tommy Robinson around the city to meet various people so I took the opportunity to look him in the eye and say we do not want him in Birmingham.
"I likened him to Anjem Choudary, who is also not welcome here, they both preach hatred and division."
"We have picked up the pieces here and moved on," he said, referring to the racial tensions in the city's past.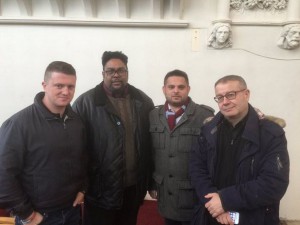 Witness to the debate, community activist Desmond Jaddoo described it as a very heated debate, saying: "Waseem didn't pull his punches. He told Tommy Robinson he was inciting hatred."
The debate was organised by broadcaster Adrian Goldberg for a Radio 4 documentary focusing on the Pegida leader ahead of the group's planned rally in Birmingham on February 6.