 Over 10,000 Attend Annual Event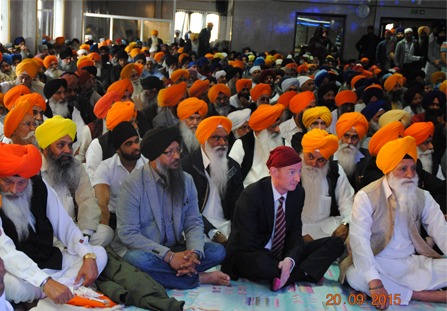 Over 10,000 Sikhs attended the Annual National Sikh Convention organised over the weekend by the Sikh Federation (UK) at Guru Nanak Gurdwara, Sedgley Street, Wolverhampton. Numbers were higher this year than the last few years.

Those attending heard the last 12 months had been a remarkable time with some huge events and achievements. By far the biggest success achieved by the Sikh community in the UK has been to not only produce, but actively use the Sikh Manifesto to make a massive positive impression.

All politicians that spoke at the Convention – Rob Marris MP, Pat McFadden MP and Margaret Ferrier MP – emphasised the significant impact of the Sikh Manifesto. It has resulted in empowering the community and raising awareness of politicians and the public of the immense Sikh contribution and issues where Sikhs would like to see genuine progress.

Pat McFadden the MP for Wolverhampton South East and the Shadow Europe Minister alongside a number of Sikh speakers expressed views about different aspects of the Sikh Manifesto where progress is essential. Several speakers also spoke about the success of establishing the Sikh Network and getting it up and running. The network now has over 1,800 participants and a core group with specific responsibilities that is constantly in communication. The Network has achieved another first in that the core group of ten has an equal gender split. They meet face to face every two months, but talk every week regarding progress on priority issues and keeping track of all ten Sikh Manifesto points.

Bhai Amrik Singh, the Chair of the Sikh Federation (UK) thanked all the volunteers of the Sikh Network and said it had a critical role in the next five years with respect to the Sikh Manifesto and full support would continue to be provided by the Sikh Federation (UK). Several speakers also reminded the Convention of the commitment by the Sikh Federation (UK) a year earlier to ensure Rob Marris was elected at the May 2015 General Election at the expense of Paul Uppal who had proved extremely disappointing.