 Gurkhas and Joanna Lumley Rally Behind Four-Year-Old Shreenik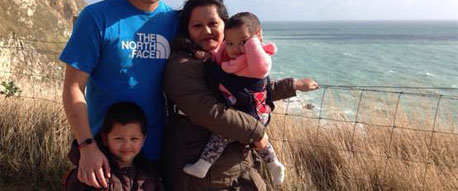 A Gurkha sergeant, whose four year old son is facing his third bone marrow transplant, is calling on fellow Gurkhas and South Asian people to join the Anthony Nolan bone marrow register to give his 'little soldier' Shreenik a fighting chance. .
Actress Joanna Lumley, keen campaigner for the Gurkha community, has backed the appeal, saying: "I've been a supporter of Anthony Nolan from its very beginnings and I have such a fond respect for the Gurkhas, so this campaign is something I'm very passionate about.
"We need as many fit young people as possible to join the register to help darling little Shreenik and so many others. I hope the Gurkha community rally behind this little fighter and save more lives."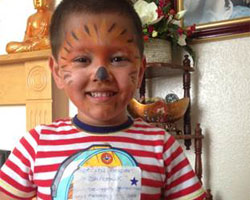 Four year old Shreenik Khadka, from Swindon, was diagnosed with Acute Myeloid Leukaemia in January this year after spending Christmas in hospital. The shock diagnosis came after his parents Narayan and Srijana noticed he was losing his appetite and had very little energy. They took him to the doctors, and a blood test revealed he had blood cancer.
Narayan, 32, a long serving sergeant in the Gurkha Signals, says, "We didn't know what was wrong with Shreenik, we thought it might just be flu, so it was a massive shock to get this diagnosis – we'd never come across anything like this in our family. It was just so hard to believe and, being Christmas, it was a very hard time for us all."
Shreenik was initially treated with chemotherapy but doctors found that his leukaemia was at 'high risk' of returning so it was suggested a bone marrow, or stem cell, transplant would be his best hope.
Blood cancer charity Anthony Nolan searched its register of potential donors, but sadly a match wasn't found for Shreenik and so doctors opted for a 'haplo' transplant from his father Narayan, who was a 'half-match'. Sadly this was not successful so Shreenik recently had his own cells given back to him in an 'autograft' stem cell transplant. He is currently in remission but the family have been told there's a "75%" likelihood his cancer will return and, in that instance, his best hope will be a third stem cell transplant, this time from an unrelated donor.
As Shreenik is Asian, he faces difficultly in finding the perfect match on the stem cell registers. Currently, only 60% of transplant recipients receive the best possible match, and this drops dramatically to 20.5% if you're from a black, Asian or ethnic minority background, due to the lack of donors from similar backgrounds.
Narayan says, "Shreenik is in isolation at the moment because of his immune system and it's hard for all of us. He just wants to see his sister, go back to his school and play with his friends.
"He just gets on with it and never complains. He's been through so much and is still bouncing around, playing hide and seek – he's a real fighter. He's has definitely got the Gurkha fighting spirit."
Since his diagnosis, the family have been campaigning for fellow Gurkhas and people from South Asian communities to join the Anthony Nolan register and have even set up donor recruitment events at Narayan's Gurkha barracks.
"People just have no idea of the scale of how many people get blood cancer every year. It's not just Shreenik, there are so many people out there who need a stem cell transplant from a stranger.
"We've had a great support from our community but there's still lots of people we need to reach out there and educate them about how easy it is to join the register and donate your stem cells."
Karen Archer, Regional Register Development Manager at Anthony Nolan says, "We urgently need more people from Asian, black and minority ethnic backgrounds to step forward as donors so that we can find matches for children like Shreenik. We particularly need young men as they are the most likely to donate but make up just 15% of our register.
"What many people don't realise is just how simple it is to be a donor. Registering simply involves providing a saliva sample. If you are found to be a match for someone like Shreenik, the donation procedure is similar to giving blood."