 Police Appeal Over Airgun Shooting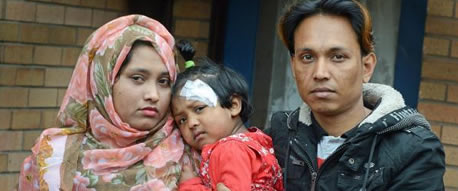 Police are appealing for information after a two-year-old girl was shot in the head with an airgun.
The Parents of little Noorsadia Akhtar have said that she is "lucky to be alive" after she was implanted with a pellet in her forehead after she was shot at, whilst in her pram.
She was rushed to hospital where the pellet was removed and is now recovering at home.
Her mother, Noor Nahar, said that she feared this would happen to other families. "I am afraid it will happen to other children. If we don't catch whoever did this, they will do it again and again."
The incident happened as she was walking to pick up her other daughter, 7-year-old Noor Ankis, from school.
 The 26-year-old added, "My 12-month-old son, Zunaed Abdullah, was in the pushchair and Noorsadia was sat on the top of it, facing me.
"I had not gone very far and was near some trees when I heard a loud bang, like a gun. It seemed to come from an abandoned building about 50 yards away and I turned to look.
"When I turned back to the children, Noorsadia was bleeding badly. There was blood all over her face and it was dripping on to her clothing. She was screaming and crying.
"I got some tissues and pressed them to her forehead to stop the bleeding. Then she stopped crying and went faint. I thought she was going to die. I could see there was something like a bullet in her head. I was panicking. I was screaming and crying and running with the pushchair, but no-one was there."
Labour Councillor for Bowling and Barkerend, Hasaan Khan, said he was working closely with the police to identify the perpetrator. "This is a horrific act and the little child is lucky to be alive. My heart goes out to her family who must be going through the most difficult time of their lives.
"I work very closely with the local Neighbourhood Policing Team and the safety of our constituents is number one priority. I am sure the police will use all their resources available to bring the perpetrator before the courts. I urge the community to act against the perpetrator and anyone who has any information should come forward and contact the police."
Sergeant James Firth, of the Bradford East Area Neighbourhood Team, said, "Extensive inquiries have been carried out into this incident and these are continuing.
"This appears to be an isolated incident, however we are keen to catch whoever was responsible before there are any further occurrences.
"Extra patrols are operating in the area and neighbourhood officers are willing to speak to residents who may have concerns.
"Anyone who might have information about who was involved is asked to contact the Bradford East Area Neighbourhood Team on 101 or call Crimestoppers anonymously on 0800 555111."