 7/7 Survivor Picks up OBE


A community worker who survived the 7/7 London bombings has spoken of her sadness on the three UK schoolgirls who fled to Syria to join Islamic State.
Sajda Mughal, said people had "underestimated the power of the internet to radicalise and groom vulnerable youngsters, but now wider society is picking upon that".
Mrs Mughal was a 22-year-old city worker who had been lucky to escape serious injury in the July 2005 bombings.
Having been affected by the blasts in the capital at the hands of fellow Muslims and seeing the rise of Islamophobia, Mrs Mughal quit her job as head of recruitment at an investment bank to work closely within her own community.
Setting up the JAN Trust, she works with women, mainly from ethnic minorities, to help them integrate into society, but also to combat online extremism.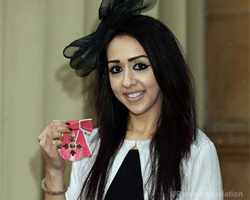 After collecting her OBE for services to community cohesion and inter-faith dialogue, she said, "Hearing that these young vulnerable girls have gone half-way around the world is saddening and traumatic. My thoughts go out to the family. These are vulnerable girls who have been manipulated with an ideology."
The mother-of-two, from Wood Green, north London, received her award from the Prince of Wales in a ceremony at Buckingham Palace.
Mrs Mughal was on her way to work when 19-year-old Germaine Lindsay detonated his bomb on a Piccadilly line Tube train between King's Cross and Russell Square.
She said, "Having gone through 7/7 myself, I do not want (to see) another 7/7. My work is to try and prevent such an attack. I would not wish what I experienced that day, the trauma, and what I have seen to happen to another person.
"Luckily I was not physically hurt. Had I got on to that first carriage I probably would not be sat here today, because the bomb was on the first carriage. It was only because I was running late.
"What I saw that day, and even with the flashbacks (that I still get), I would not wish it on anyone."
"Helping to tackle online extremism is a way for people to safeguard their children and to ultimately safeguard society," she added.