 Pardeep Singh Bahra is the First Sikh Man to Model for Samsung's Global Campaign
UK fashion blogger Pardeep Singh Bahra is the first Sikh man to model for a global campaign for Samsung.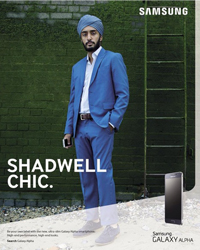 Modelling for the new Samsung Galaxy Alpha, Pardeep stated happily "Feeling blessed as I am now the first turbaned Sikh man to be in the global ad campaign with Samsung. Yes that's right guys, Samsung. Lately I've realised that these opportunities aren't the result of my work and effort, they're the result of faith, positivity and above all else it's all because of God!"
23 year old Pardeep is the founder of fashion blog 'Singh Street Style'. Alongside blogging Pardeep is a stylist, model, fashion designer and photographer. Having started his own photography business at 17, Pardeep has grown in popularity for his cinematic and slick approach to photography which is present throughout his blog.
His work has been featured in Vogue, The Guardian, New York Daily, Menswearstyle as well as many other publications.
Samsung have released the new premium 'Galaxy Alpha' which has been noted for its sleek and lightweight design. Pardeep has been chosen as one of the key faces to represent the campaign, he will be seen on billboards and posters across the UK.