 Will India Embrace the Beautiful Game?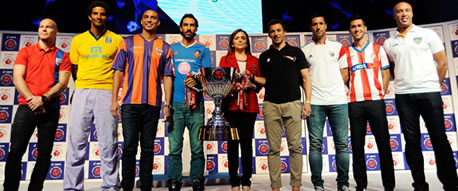 With eight teams, three months of matches, and over half a dozen legends, the Hero Indian Super League is looking to convert a billion people into football fans.
Despite a healthy sporting culture, India remains a nation that has not taken to the beautiful game. Arguably the world's leading cricketing nation and among the best at hockey, when it comes to football India are currently ranked 158th by FIFA and recently lost to Palestine.
According to football folklore though, India's sporting culture could have been very different had they been allowed to compete against other nations bare footed.
Certain sectors of India's football community state this is nothing more than a myth, with the decision to not enter the 1950 World Cup being strictly financial, and nothing to do with FIFA banning sides from fielding bare footed players, after India did so in the 1948 Olympics.
Whatever the reason, the outcome is clear; India is not a footballing country. Yet the potential remains, and as such some of India's biggest corporate companies came together with the All India Football Federation (AIFF) and a host of India's celebrity elite to fund the Hero Indian Super League. This drastic move has pushed aside the I-League, India's current domestic league, which will continue to run but no longer under the AIFF banner.
The project is very similar to the North American Soccer League venture of the 1970s, which saw backers attempt to sell football to the American public by bringing aging superstars such as Pele, Franz Beckenbauer and George Best to the States. Looking to have even more of a celebrity pull, each team is required to have a marquee signing and a celebrity board member.
The event started on October 12
th
and the format will see all sides face each other home and away, with the top four going into a knockout stage, culminating in a final on December 20
th
. So prepare for GIFs of past-it stars recapturing former glories, watch for Indian talents making names for themselves and listen out for incidents that will be adequately described with the words 'only
in India…'
The Teams
Atletico De Kolkata
Location: Kolkata (formerly Calcutta), West Bengal.
Manager: Antonio Habas Lopez. The Spaniard is a former manager of the Bolivian national team, as well as La Liga sides Celta Vigo and Valencia.
Star Players: Former Spanish international Luis Garcia is joined by another ex-Liverpool player in Josemi and Borja Fernandez, once of Real Madrid, sealing the Spanish flavour of the side part-owned by Atletico Madrid. The side also boast Climax Lawrence, one of India's most capped players.
Celebrity Board Member: Sourav Ganguly, former India cricket captain.
Prediction: With several experienced Indian national players and a strong Spanish spine, the side could gel better than most and go all the way to the semi-finals.
Trivial Fact: Kolkata will play home games in the second largest stadium in the world, the 120,000 capacity Salt Lake Stadium, which once held 131,000 for a derby match between East Bengal and Mohun Bagan in 1997, showing the area already has a huge football following.
Chennaiyin FC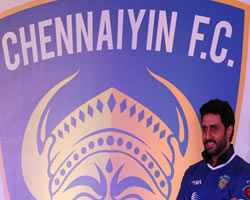 Location:
Chennai, Tamil Nadu.
Manager: Italian tough guy and World Cup winner Marco Materazzi will act as player-manager.
Star Players: Once direct rivals at Manchester United and Manchester City respectively, France's Mikael Silvestre and Brazilian Elano are the marquee players, supported by former Bolton and Hull fullback Bernard Mendy.
Celebrity Board Member: Abishek Bachchan, actor and son of Bollywood royalty, Amitabh Bachchan is joined by cricket star Mahendra Singh Dhoni.
Prediction: Although strong in defence, the side may lack the attacking prowess to break the top four.
Trivial Fact: The city of Chennai will be looking to continue its sporting success, with the Chennai Super Kings having just won the Champions League T20 tournament.
Delhi Dynamos
Location: Delhi.
Manager: Dutchman Harm Van Veldhoven has spent most of career managing in Belgium.
Star Players: Perhaps the biggest name in the entire league, Alessandro Del Piero stands out in this squad. Czech goalie Marek Cech and Danish forwards Mads Junker and Morten Soubo have each carved out modest careers in Europe, prior to joining Delhi.
Celebrity Board Member: None. However, owned by India's largest TV cable company, DEN Networks and aligned with Dutch club Feyenoord, plus with the impact of Del Piero, the club has enough star-power to draw some celebrity fans through the season.
Prediction: Aside from the talismanic Del Piero, the side lack genuine quality and will need to battle to avoid finishing last.
Trivial Fact: One of the biggest cities in India, with a proud sporting tradition, there are over 70 amateur football sides in Delhi.
FC Goa
Location: Margao, Goa.
Manager: Brazilian Zico has managed the Iraq and Japan national teams and is regarded as one of the best footballers of all time.
Star Players: An Arsenal legend, Frenchman Robert Pires, is joined by Arsenal flop, Brazilian left-back Andre Santos. The squad also contains one of the stars of India's I-League in Nigerian striker Ranti Martins.
Celebrity Board Member: Bollywood heartthrob Varun Dhawan holds the title of brand ambassador, whilst cricketer Virat Kohli sits on the board.
Prediction: Other than the aforementioned marquee signings, this side is one of the youngest in the competition. If Pires performs the side could challenge for a top four spot.
Trivial Fact: An alumnus of Nottingham Trent University student and one of the hottest young stars in Bollywood, Varun Dhawan will perform at the ISL opening ceremony.
Kerala Blasters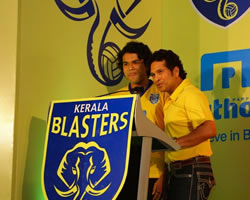 Location:
Kochi, Kerala.
Manager: Goalkeeper David James, capped 53 times for England, takes his first coaching role as player-manager for Kerala.
Star Players: One of the few players of Indian descent to have made a career at the top end of English football, Michael Chopra swaps Championship side Blackpool for Kerala and will play alongside Canadian Iain Hume, who scored over a hundred goals in English football. The side also have French defender Cedric Hengbart, a former Auxuerre stalwart.
Celebrity Board Member: Arguably cricket's greatest batsman and India's most loved sportsman, the side is co-owned and named after 'Master Blaster' Sachin Tendulkar.
Prediction: On paper this side is arguably the weakest in the league. However, Hume and Chopra should find the net enough to keep the side from finishing bottom.
Trivial Fact: Kerala play at the 75,000 capacity Jawaharlal Nehru Stadium, named after India's first Prime Minister. A popular title, the Delhi Dynamos (60,000 capacity) and Chennaiyin (40,000 capacity) both play at stadiums bearing the same name.
Mumbai City FC
Location: Mumbai, Maharashtra.
Manager: Peter Reid, the former Sunderland and Leeds manager takes his first managerial role in three years.
Star Players: Nicolas Anelka and Freddie Ljunberg, once Arsenal colleagues, link up once more at Mumbai City. German Manuel Friedrich, who was playing for Borrusia Dortmund last season, will also play for one of the most diverse squads in ISL.
Celebrity Board Member: Ranbir Kapoor, one of Bollywood's most successful actors.
Prediction: The squad has strength in all areas, some of the best Indian players in the league and two players that were still playing top level football last season (Anelka and Friedrich). This side should win the competition.
Trivial Fact: Owner Ranbir Kapoor is also the official brand ambassador for Barcelona FC in India, but don't expect Lionel Messi to make the move to Mumbai just yet.
NorthEast United FC
Location: Guwahati, Assam.
Manager: Ricki Herbert, the manager of New Zealand for the last eight years, steps into his first role outside of his home nation.
Star Players:
Joan Capdevila, one of the unsung heroes of Spain's greatest era, is the only big name in the NorthEast squad,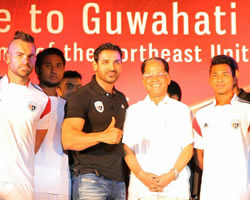 although goalkeeper Alexandros Tzorvas does have 16 caps for Greece.
Celebrity Board Member: John Abraham, Bollywood superstar and international model.
Prediction: The side lack the attacking quality that most the other sides possess and will ultimately struggle to avoid finishing last.
Trivial Fact: John Abraham has big match experience himself, having played for fictional side Southall United against Manchester United in Bollywood film Ready Set Goal.
FC Pune City
Location: Pune, Maharashtra.
Manager: Franco Colomba, manager of Parma just two seasons ago, is one of Italy's most experienced coaches, having managed 16 different sides.
Star Players: World Cup winner David Trezeguet is the biggest name but the likes of goalkeeper Emmanuel Belardi, defender Bruno Cirillo and Greek legend Konstantinos Katsouranis – who was part of the Greece team in this summer's World Cup – make this one of the best squads in the ISL.
Celebrity Board Member: Hrithik Roshan is one of Bollywood's biggest and most recognised actors, whilst Italian team Fiorentina own a 15% stake in the club.
Prediction: With a solid defence and Trezeguet in attack, the side will be extremely hard to beat and may just win the whole thing.
Trivial Fact: Manager Colomba has brought in his son Davide to play as part of squad but Adrian Mutu, the Romanian sacked by Chelsea for testing positive for cocaine, looks unlikely to take part, despite reports stating he had signed for Pune.