 Ethnic Minorities To Play Big Part in Independence Vote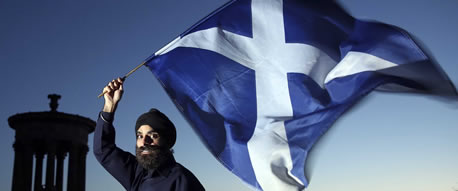 Three per cent of individuals in Scotland describe themselves as Asian, ultimately compromising the country's largest ethnic minority group. Statistically speaking, this may be the single most important group that sway the vote either way.
With polls suggesting a neck-and-neck race for the September 18 referendum on independence from Britain, the Asian vote could prove to be decisive – however opinion is divided.
Welsh-born British citizen of Pakistani decent, Mohammed Asif, 43, lives in Glasgow explains why he would be voting against independence. "I like to be Scottish but part of the U.K. I don't think there is anything wrong with that."
Speaking about the consequences of independence would have on the Scottish people, Lisa De Bode wrote, "But ending the 300-year union with England would have profound economic and political consequences: It would alter the balance of Parliament in London, stripping the House of Commons of 59 seats — 40 of which are held by the Labour Party, while only one is held by the ruling Conservative Party. Labour supporters in England fear that the loss of Scotland's seats could cement Tory rule in London."
"Uncertainty over what currency a newly independent Scotland would use and what percentage of national debt it would assume has already spooked financial markets, with the pound slumping to a 10-month low on news of a surge in predicted yes votes."
Now the foot is on the gas among grassroots Yes campaigners in the Scottish Asian community, with a heavy presence at local cultural events. And the Yes campaign has a number of high-profile Asian politicians and spokespeople, including the Minister for External Affairs and International Development Humza Yousaf MSP from the Scottish National Party.
Anum Qaisar, the general secretary of the Muslim Friends of Labour, organised a mock referendum vote at the University of Strathclyde in March for Muslim students. She herself went into the debate convinced she would vote to stay part of the union.
After the debate, the number of students who said they planned to vote 'No' had almost halved. And it also changed Qaisar's own mind, and she defected to the Yes campaign. "It made me question why Westminster doesn't trust Scotland," she said. "I also worry about the direction UK politics is going; as the granddaughter of immigrants I don't want anti-immigration and xenophobic policies at the forefront of political debates."