 Mandavi Kaushik is a personal stylist and fashion blogger @TheRedNotebook
Mandavi from
The Red Notebook
has many accolades to her name; personal stylist, fashion and lifestyle blogger and co-founder of the blog –
The Red Notebook Blog
. With a keen sense of style, an eye for good design and an enthusiastic love for fashion, Mandavi believes in empowering people's fashion sensibilities while helping them discover their unique style.
As an Indian girl I have the luxury of maintaining two wardrobes – a traditional one and a not-so-traditional one. This is the time of the year where I invest in some new season pieces and plan for the festive season ahead. For my Indian closet I have always shopped in India during my annual visit to motherland. However I have slowly started to explore designers and brands here in the UK as well. I am also a big advocate of online shopping, a blessing for people like me who have their hands full.
In a run up to the festive season, I will be writing a series of articles where I will share my new season finds for clothes, accessories and lifestyle products. I hope to take the pain away from you for your shopping search.
Have a look at my top jewellery picks for this season.


Traditional Jumkis
– When in doubt wear a pair of gold jumkis with your traditional outfit. I have selected a few kundan and gold design earrings now available at excusivley.in for my readers. Love the simplicity and elegant design of these earrings. They are sure to add an elegant charm to your outfit.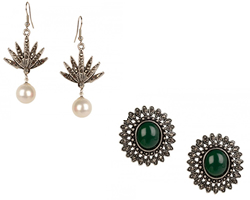 Modern Earrings
– If you do not want to go very traditional then try these two beautiful options this festive season. Even if you don't wear any other accessories, an earing is a must. It can complete any traditional outfit.
These two modern design bejeweled earrings are available at excusivley.in and will definitely do justice to your festive look.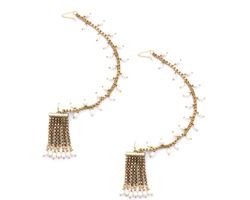 Earrings with a Twist
– I simply can't wait to own these gold plated metal chain earrings from Ritika Sachdeva. They are absolutely stunning. Traditional, yet very modern looking. They will look best on tided up hair-dos. Whether it's a sari or a suit, these earrings will add oomph factor to your festive outfit.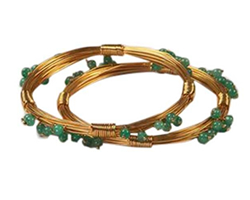 Pretty Bangles
– How beautiful are these pair of gold plated bangles from Ambar Pariddi Sahai now available at Strand of Silk. One must admire the brilliant craftsmanship that must have gone into producing this design. Gold wires are neatly intertwined to create this gorgeous design. Available in two colours for you to choose from.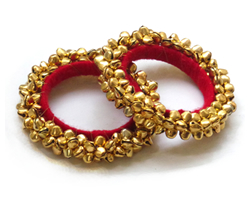 Another of my other finds are these attractive Ghungroo bangles from Scarlet Bindi. These bangles are one of a kinds and I think they are a lot of fun.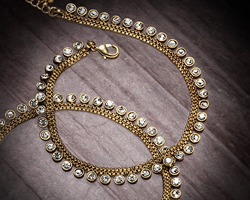 Anklets
– I am all for anklets. Love wearing them. They add that little extra special touch to your traditional outfit. They do a great job in dressing up the outfit and look great. Especially when you are wearing a Lehenga. I have discovered some beautiful and delicate anklets on the Bees site. Do take a look at their collection.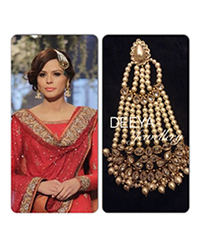 Something Unique
– My mum owned a Jhumar as part of her heirloom and I use to watch her wear it on special occasions. Since then I have simply adored them but ironically I have not owned one till date. Hence I would love to lay my hand on this gorgeous Jhumar from Deeya Jewellery. This piece is surely a head turner.

Dress up Your Hands
– If you want to add an edge to your festive outfit then try this gold-plated hand harness by Eina AhluWalia. Something very unique for this season!
Other than my jewellery finds above, I would also like to share information about really passionate UK based designers whom I discovered recently through the power of social media.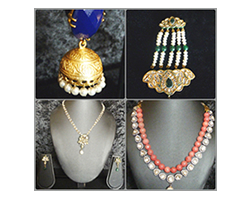 Trousseau
– Her passion towards her craft is reflected in her beautiful and intricate jewellery designs. I was just in awe of the beautiful jewellery in her showroom. Urvi from Trousseau is a very talented designer and within a short span of time she has received a lot of accolades from the industry. Her jewellery collection has something for everyone and every piece is unique.
If you have something in mind then Urvi would be happy to create customised jewellery for your special day. I have a selected a few pieces from her latest collection. If you want to expand your jewellery collection then do check Trousseau out. It has some lovely goodies for you to savour.
Aarushi London
– I have discovered another talented designer Aarushi.  She is a talented designer of Semi Precious stone jewellery and has a passion for creating handcrafted jewellery in the finest precious stone, crystal and pearls. I have selected few or her pieces that would look great on your contemporary Indian outfits. These are beautiful statement neckpieces that would add glamour to your outfits.
Hope you enjoyed reading my jewellery finds for this season. Do share about your favourite jewellery items with me. Till then, happy shopping.
Mandavi Kaushik   –   Stylist & Fashion Blogger   –   @ The Red Notebook