 Jignesh Madhavji Shortlisted in National Award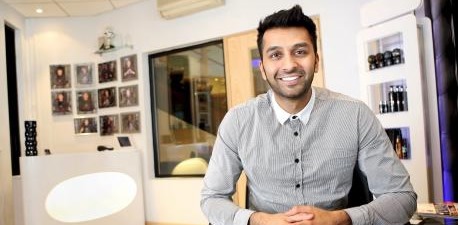 A Bolton barber is celebrating this morning after being shortlisted in a competition to crown Britain's best wet shaving barber.
Jignesh Madhavji, owner of the Jiggi Salon and Spa in the prestigious Bolton Whites Hotel inside the Reebok Stadium, beat off fierce competition and will now go head-to-head with 14 other barbers for the coveted North West Best Wet Shaving Barber regional title.

If Jignesh , 28, wins the North West regional heat he will then go on to the national final and compete against seven other wet shaving experts in a special "speed shaving" tournament inside a boxing ring at Barber Connect 2014 at the coveted Celtic Manor Hotel in Wales.

The North West regional final will take place in Manchester in March 2014, where Jignesh will be judged on a number of criteria such as preparation, razor technique, after shave routine, health and safety and overall efficiency.
The competition, dubbed 'Britain's Best Shave', is being organised by premium male grooming brand The Bluebeards Revenge and the British Barbers' Association.

Mike Taylor, director at the British Barbers' Association, said: "The competition promises to be not only a celebration of the most creative and innovative of British wet shave barbering, but also a showcase of the growing global reach and talent of the UK cut-throat shaving industry."

Jignesh, who won the NHF barbering competition back in 2010, said he was delighted to have made the regional shortlist and was hopeful of progressing to the national final.

 

He said: "I am really pleased to be competing in the competition to find Britain's best wet shaver. Barbering is my passion and I love being creative and innovative as it allows me to provide a very personal service to the individual.

"I have been running my own salon and spa in the Bolton Whites Hotel for just over two years and have built a very loyal customer base. I now have clients travelling miles for my face oil massages and cut throat shaves.
"I am trying to build a reputation in Bolton for men's hairdressing and creating a recognised brand. Winning this shaving competition will be great for my clients to see and shows that I have got a real passion for shaving."

The winner of the competition will land the coveted title of Britain's Best Shaver, plus win £3k worth of Bluebeards Revenge shaving products and star in a shaving commercial for the leading male grooming brand.

Nick Gibbens, marketing manager at The Bluebeards Revenge, said: "We connect with the funky, young new generation of barbers who are the future of the industry. We aim to inspire these youngsters and create a legacy on the back of a re-birth of the almost lost wet shaving barber skills."

Wet shaving is currently enjoying a remarkable renaissance, with the figures showing the number of barbers performing traditional cut-throat shaves in Britain has jumped by 50% in the past 12 months.
Research from the British Barbers' Association and The Bluebeards Revenge shows that there is an estimated 14,100 barbershops in Britain, with 5,076 (36% of total) now offering cut-throat shaving to their male clients, up from just 3,384 (24%) in August 2012.

The British Barbers' Association attribute this dramatic surge to a number of different factors, including rising barbering standards and greater innovation, better marketing of services, the rise of the 'metrosexual male, the need for men to look good at work and guys wanting to look dapper in tagged photos on Facebook and Twitter.