 Singer collects bumper cheque for The British Asian Trust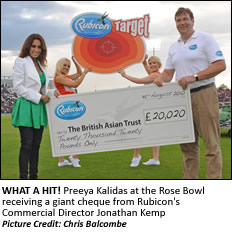 SOAP star turned singer Preeya Kalidas swapped song scripts for cricket kit when she received £20,020 for The British Asian Trust at the Friends Provident t20 Finals Day at the Rose Bowl, courtesy of exotic juice brand Rubicon.
Best known for her roles in East is East, Bend It Like Beckham and the soap opera EastEnders, Preeya Kalidas collected the donation on behalf of The British Asian Trust.
The donation was given by Rubicon, official partner of the Friends Provident t20, who throughout the competition had been encouraging players to aim flamboyantly for a brightly coloured 3'x3'6″ target at county grounds and pledged to donate the money when it was hit.
Preeya Kalidas, said: "On behalf of The British Asian Trust I'd like to thank Rubicon for their generous donation, which will go to help support charities within the areas of education, enterprise and health in South Asia."
Jonathan Kemp, Commercial Director for Rubicon, added: "We are delighted that Preeya is here to collect our donation on behalf of The British Asian Trust. Having seen her on the field I'm convinced she can bat it like Botham just as she bent it like Beckham."