 Priyanka Chopra appointed UN ambassador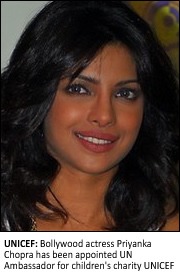 ONE of Indian cinema's leading lights, Priyanka Chopra, has been appointed by the United Nations Children's Fund (UNICEF) as its newest National Ambassador.
The actress will promote issues relating to child rights and adolescence.
"I am very honoured to formalize my association with UNICEF as their National Ambassador to help bring awareness for child rights and adolescence." The actress said at a ceremony in New Delhi.
"Over the past few years, I have worked very closely with the team at UNICEF to bring awareness to a number of causes related to India'' young and I realized that there is so much more to be done. I hope that by lending my voice I can make a difference to their lives."
UNICEF representative Karin Hulshof said the actress was "passionate" about working with children.
"You all know Priyanka Chopra as a shining star of Indian cinema. Now I tell you that she is equally passionate about her work on behalf of children and adolescents," Ms Hulshof said.
"We are proud of the work she has done with us so far on child rights and we are thrilled about all what we will be doing together so that no child gets left behind. Priyanka, with her unwavering commitment to child rights, will help to create a world fit for children."
The actress first collaborated with UNICEF in 2008. Since then she has recorded a series of public service announcements championing girls' education and celebrating the 20th anniversary of the UN Convention on the Rights of the Child. She has also participated in a media panel discussion to promote child rights.
Priyanka joins Bollywood superstars Amitabh Bachchan and Sharmila Tagore in supporting UNICEF's work for children in India and around the world.