 '3 Idiots' becomes biggest Indian film at the Box office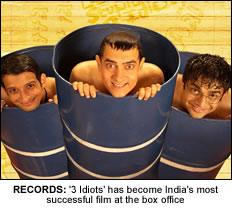 A BOLLYWOOD comedy about three hapless friends has made history after becoming the biggest Indian film at the box office.
More than 60 million people worldwide have seen Rajkumar Hirani's '3 Idiots' since it was released at the end of last year.
The film, which stars Aamir Khan, R. Madhavan, Sharmaan Joshi and Omi Vaidya, has also grossed more than $70 worldwide to date, and is the highest grossing Indian film ever to release in the US, Middle East, Australia, South Africa, Pakistan, Kenya, Fiji.

Star of the film Aamir Khan said:  "As a member of the team am so happy with the kind of success that the film is achieving. Thanks to Raju, for making the film so well, toVinod for doing such a great job as a producer and to Reliance Big Pictures for the kind of release they gave the film."