 Parliamentary hopeful, Shazia Awan on her trip to war torn Srebrenicia
PROSPECTIVE Parliamentary candidate, Shazia Awan this month returned from an eye-opening trip from war torn Srebrenicia, which saw one of the worst genocides of recent history.
She was part of a team of 20 aspiring politicians from across the country who took part in the Conservative Party social action project -Project Maja. The project, led by Baroness Sayeeda Warsi aims to help people living in Srebrenica – a town which 14 years on is still dealing with the horrors of the July 1995 massacre which claimed the lives of 8,000 Muslim men and boys at the height of the Bosnian war.
Writing for The Asian Today, Shazia reveals what made her want to travel to Srebrenicia, and why she plans to return.
"I was lucky enough to be selected to visit Bosnia as part of a Conservative party delegation of candidates, headed by Baroness Sayeeda Warsi in her capacity as Shadow Minister for Social Action and Community Cohesion.
I was part of a team of just 20 aspiring politicians from across the country that were in Srebrenica to help build a house for a refugee family, construct a football pitch and refurbish an old classroom and turn it into an IT Suite. 
To run Project Maja we worked with The Fund For Refugees, which was set up by Lady Nott, the wife of Sir John Nott, who was defence minister under Margaret Thatcher at the time of the Falklands War. In fact Baroness Thatcher is Patron of the charity. Since 1992, the charity has helped pay for new
homes
to be built for the families of victims of the massacre.
I remember hearing about the massive massacre in back in 1995 when I was in school. Nearly 8,000 men and boys were executed, with a further 25,000 women and children deported, and I questioned at the time why nobody stepped in.
As part of this project we undertook three major tasks constructing a football pitch, refurbishing an IT suite in a local secondary school and building a house for a refugee family. Day one saw me working on the school, painting, the walls, scrubbing the floors and getting really stuck into the work. We were very lucky to have the most amazing translator that day, Arminka whose family had been affected by the events in the 90's. It was amazing to hear her recollections from the time- all I could think was what crime did these people commit? Why was being Muslim seen as such an offence?
After a very long hard day all three project teams got back together for our evening meal- some of the local youngsters put on a dance for us which we all ended up taking part in- who would have thought as our group danced around the room with the locals that William Hague, the Shadow Foreign
It was an incredibly emotional trip- draining at times but I really wouldn't change a thing. We stayed with local families who were so hospitable and really made us feel at home. The lady we lodged with had lost her husband and her son and lived with her daughter and granddaughter- indeed the sad reality was that everyone we met had lost somebody. One lady who came to talk to us had in fact lost over 150 family members.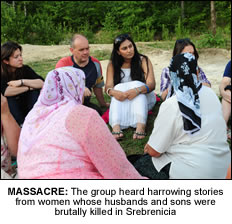 What I found absolutely overwhelming whilst in the region was the capacity of those who lost family members and friends in the genocide to forgive. I really don't know where they find that strength of character from. I spoke to one lady who said that they have to forgive to build a future for their children.
 What I will never forget is Deena, a lady I met who told of how until recently like many women in the region was searching for the remains of her husband- nearly fifteen years on and she had just pieced together 70% of his remains-this means that a body can be buried- she told of her relief to have found the 70% but she never has found his whole body- she was forced to bury him decapitated.
I would hope that we never see another disaster like the one in Srebrenica ever again. Educating children and young people to be tolerant and to embrace each other's differences is surely the way for the future.
When I first joined the Conservative party it was difficult to know what to expect. However under David Cameron, I really do feel part of a very exciting new type of politics.
It's a politics which sees everyone from members of the shadow cabinet, the House of Lords and party activists such as myself getting involved on the ground level and rolling our sleeves up to make a real and lasting contribution to change. William Hague, Tobias Ellwood MP and Lord Ashcroft joined us on our trip.
Lord Ashcroft also joined us on our trip- it just goes to show that everyone is prepared to work together for a common purpose. The importance of social action cannot be denied. It is only by working together now that we can ever learn from the mistakes of the past and move forward.
This really has been a life changing experience and I truly understand how important it is for the Conservative Party to build a lasting and strong relationship with communities in Bosnia. I look forward to returning next year."