 Rasul invests expertise instead of capital and turns around failing business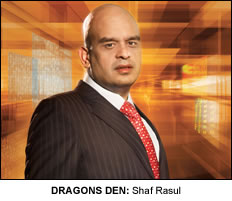 DRAGONS Den star Shaf Rasul proved to be super-human after he saved a man's business from bankruptcy.
Property entrepreneur Shaf didn't invest in Giles Bury Qwikgoal.com product – instead he offered his business expertise quickly turning the product from 'zero' to 'hero'.
Giles, whose business was on the brink of bankruptcy, had already received the infamous 'I'm out' verdict from the judges on the BBC online version of the show.
In his pitch to the Dragons, Giles Bury asked for £49,000 for 20 percent of the company to help with marketing his product, Qwikgoal.com – a website dedicated to selling portable football posts which can be erected anywhere.
New Dragon, Shaf quickly pointed out to Giles that although he potentially had a great product, his business was insolvent and days from bankruptcy and what he really needed was a business mentor to help quickly turn his business around.
The star of the online version of the hit TV show is now mentoring Giles – who has sensationally emerged with a potentially multi-million pound business.
 "When I met Giles, he had an insolvent business," Shaf said. "After the show finished I agreed to be Giles' business mentor and try and guide him out of his current situation and make his business solvent. Over my years in business, I have helped turn around a number of businesses and sold them for a profit and Giles' business was one which was I saw as a classic example of this.
Shaf admitted that while Giles was hanging onto a "great product", "everything else in the business was wrong".
"The business had no route to market, it had eight year's worth of inventory and was racking up costs left, right and centre," Shaf said. "It had no money to continue to develop the other products Giles had been working on. In its current state, Giles would have had to call in the administrators within days. Giving Giles a wad of cash and leaving him to his own devices would still have resulted in the business going bankrupt in a number of days."
Having agreed to mentor Giles, Shaf introduced him to Ebuyer.com, one of the largest e-commerce stores in Europe. Delighted with the product, they pulled out all the stops and saved Qwikgoal.com from going into bankruptcy.
"We have worked tirelessly since we met, thrashing out ideas and getting Giles' business into the best shape of its life and as a result we are negotiating a licensing contract for a new product that Giles has developed," Shaf said. "This contract is worth more than £1million. We have essentially turned Qwikgoals.com around in two weeks into a potentially multi-million pound business."
Giles said the remarkable turnaround in his business was "a dream come true".
"During my pitch on Dragon's Den, Shaf quickly worked out that my business was insolvent and it was only a matter of time before I was bankrupt," Giles said. "I was so keen to work with him because of his obvious business acumen that I even offered 90% of my business to him for the £49,000 investment. I was devastated when he said no. After my pitch and filming had stopped, Shaf approached me and said: 'You're in a mess aren't you?' He then gave me his number and said to me to call him on Monday and he would help me out.
"That was like a dream come true because I had lost count of the number of sleepless nights I had since I launched the product.
"Dave Wood, the Commercial Director of Ebuyer, came to my rescue and even paid me in advance so my business wouldn't be insolvent. To say I'm delighted is a huge understatement. The best part of it is that Ebuyer are now negotiating a licensing deal to have a new product I am in the middle of developing.
"Once the licensing deal is concluded, this deal will mean that my company will immediately be valued at over £1million and Shaf has helped me to do that within two weeks. I was so grateful to Shaf that I offered to pay him but he refused to accept a single penny, even though he has been travelling all over the country on my behalf negotiating deals. He simply smiled at me and said 'It's all about doing the deal!'"