 Sri Lankan government must help them, says group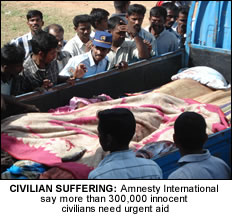 AMNESTY International has made an urgent plea to the Sri Lankan government to allow it to pass humanitarian aid to thousands of people trapped as a result of fighting in the north.
The human rights group said an estimated 300,000 people in the Wanni region of northern Sri Lanka were "in desperate need of shelter, food and sanitation".
Decades of fighting between the Tamil Tigers and government forces has left the region in tatters and Amnesty accused both parties of putting innocent lives at risk by not allowing it to help those trapped.
A statement released by the human rights group said "as the north-east monsoon season approaches, only 2,100 temporary shelters for 4,000 families have been provided, leaving at least 20,000 families in need of protection from the elements."
It also accused the Tamil Tigers of not allowing civilians in the region to move to safer areas believing they were being used as shields against government forces.
The government itself also came in for heavy criticism by Amnesty who accused it of refusing to allow a United Nations convoy with shelter kits into the region earlier this month despite reports of thousands of families in need of shelter.
Sam Zarifi, Amnesty International's Asia Pacific Director, said: "More than 300,000 people face the next few months crowded together in temporary shelters, surrounded by mud, with no promise of regular access to food or adequate sanitation. Our information indicates that the situation in the Wanni is rapidly becoming critical, despite the government's statements that it is coping."
He said there was a "huge gap" between information being fed by the government and the real situation on the ground.
"Sri Lanka's leaders must ensure that there is international involvement in the distribution of aid without discrimination, wherever people are in need," he continued.  
"Without independent monitors or international agencies on the ground, there is no opportunity to conduct a meaningful needs assessment of displaced families. Before the evacuation of international staff, UN agencies co-ordinated and supervised support in the region. There is now no way of verifying government claims about aid reaching these families in need and our evidence strongly suggests that not enough is being done.
"These families must not be forgotten and left to suffer in a war zone."